As Saskatchewan begins to experience some elusive warm weather, people throughout the province can't help but rush to get some outdoor time with their friends and family.
After all, they deserve it after enduring months of cold snaps and frigid temperatures.
Camping sure is a fun activity to do outdoors, but nothing will bring the morale of your group down faster than realizing that you forgot to bring an essential item during the rush to get there.
Truth be told, everyone remembers to bring the bigger items. The tents, the sleeping bags, and the food always make the cut. But sometimes it's the little things that matter the most.
Small things that if forgotten could lead to a terrible camping experience. But don't worry. We've got you covered. Here's a list of the top ten most-forgotten camping items.
Skip the reading and download the Ultimate Guide to Summer Camping!
1. Downloaded Television Content
Alright, don't get us wrong.
We know that camping is all about experiencing outdoors and feeling the beauty of nature. And the last thing you should be doing is to binge-watch a Netflix series on camping while camping.
However, sometimes things don't go according to plan.
Living in Saskatchewan means living in a province that experiences erratic weather. Which means that it's quite possible that it rains (or even snows) during your spring/early summer camping trip.
Recommended Reading: 10 Tips for Camping in Cold or Wet Weather
In such circumstances, it pays off to come prepared. Don't forget to download a movie or a few episodes of your favorite TV show for offline viewing on your mobile devices.
This way when nature plays spoilsport and you're forced to stay inside your tents, you can save the day.
2. Spare Batteries
Speaking of TV shows, remember that episode from F.R.I.E.N.D.S. when Ross and Chandler visit Vermont and talk about the "off-limits" stuff that you're not supposed to take after a hotel stay?
"You cannot take the remote control, but the batteries? *Clap, Clap, Clap*."
Before you ask, no, we're not suggesting that you head up to a hotel and "steal" stuff.
The essence of bringing this up is that while people do remember to take essential items like lanterns and flashlights with them to a camping trip, they often tend to forget packing spare batteries.
It's always advisable to take spare batteries for items that can use them because you never know when the need might arise for it. It's better to be safe than to be sorry.
3. Extra Pair of Shoes
Carrying an extra pair of camping shoes might seem to be an obvious thing, but you'll be surprised at how many people actually forget to carry them.
A big reason for that is sometimes not knowing what conditions to expect at the campground. For example, the soil there could be extremely muddy which could lead to your shoes getting wet and dirty.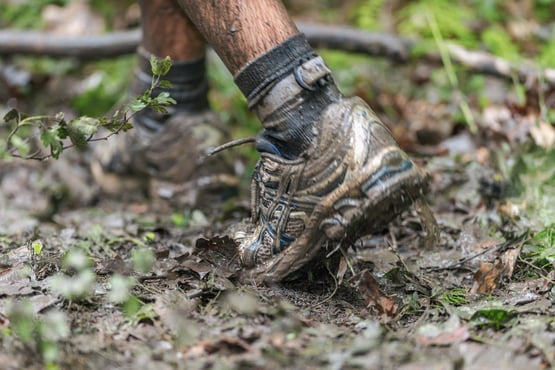 In such scenarios, it's a good idea to have an extra pair of shoes handy so that the mushy conditions don't ruin your camping activities.
CAA PRO TIP: Keep the area around your tent clean by removing your dirty shoes away from the tent and changing into nice, clean ones before stepping closer.
4. Extra Towels
Just like shoes, towels too fall in the same category.
People always remember to pack one each for themselves and their family members, but you never know what conditions await you at the campground.
Maybe it rains throughout your trip in which case drying up will be a constant tussle. Or maybe you're camping with kids and are faced with interesting challenges such as towels getting wet/dirty a lot or being used to clean up stuff more often than not.
It's always good to pack extra as you wouldn't want to 'throw in the towel' in such situations, right?
5. Plastic Tablecloth
Remember those red checkered tablecloths that look really pretty in those fancy camping photographs?
While you don't necessarily have to pack that exact tablecloth for your trip, it's essential that you don't forget to pack one in the first place.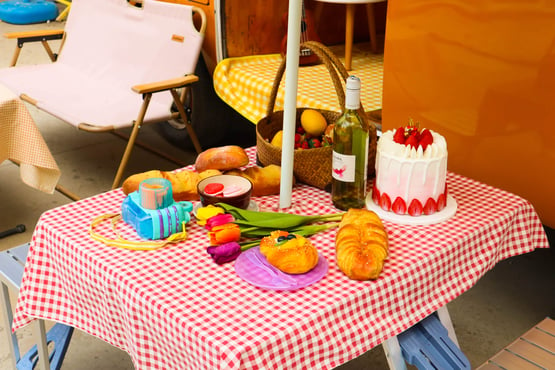 During the excitement of taking the trip, you would surely remember to pack food, but a tablecloth might slip off your mind. Probably because it's not something you use while eating at home.
The picnic tables at campgrounds, however, are not the same. They can be dirty, which is why we recommend carrying a plastic tablecloth to spread on a camping table before you sit down to eat.
6. Ice
If there's anything that should be proclaimed as the "hero" of your camping trip, it should be the cooler.
Think about it. What ensures that your perishable food items don't go bad during those warm summer days? The cooler. What acts as a beacon of light because it provides you access to cold drinks when you've just returned from a tiring and thirst-filled hike? The cooler.
Taking a cooler is important, efficient, and something that you'll never forget. But do you know what often gets left behind and is forgotten almost always? "Ice, ice baby!"
Ice is the ammunition that makes the cooler tick and helps you keep your food fresh.
Therefore, unless you're comfortable eating granola bars and drinking cans of warm pops, don't forget to buy some ice on your way to the campground.
7. Firewood
Apart from those who might genuinely forget, one of the biggest reasons why people forget to bring wood for fire to a camping trip is because they're not fully aware of the campground's policies.
Some grounds expect people to bring their own firewood while there are others that restrict that. Amid all this confusion, you might find yourself in a pickle as being at the campground without any firewood.
It's a good practice to always check a campground's firewood policies before you leave. That way you'll always be covered and won't be left searching for wood in cold and dark conditions.
8. Garbage Bags
For those trying backcountry camping for the first time after experiencing front country campsites, you might be in for surprise as you won't find any easily accessible trash bins there.
So, it's kind of understandable if people forget bringing their own garbage bags to store their trash in.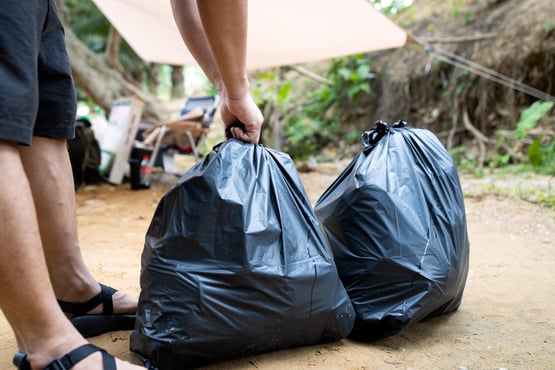 However, now that you know, remember to back those garbage bags to keep the campsite clean and tidy. Furthermore, proper storage of trash also helps keep the wild animals away and ensure safety.
CAA PRO TIP: Apart from trash, these bags also come in handy to store your dirty clothes or other such items. Therefore, always carry extra bags because you never know what you might need them for.
9. A Complete First-Aid Kit
Since safety is of the utmost importance, packing a first-aid kit is probably the number one priority for people before they take a camping trip.
In fact, the best-case scenario of taking a first-aid kit is to be in a position where you either never use it or use it very minimally like an occasional headache medication or band-aids for small cuts and scrapes.
However, this also leads to a much bigger problem.
Since your first-aid kits are not used that often, you might tend to keep taking the same kit repeatedly to different trips without replenishing them for missing essential items.
Therefore, always remember to pack a complete first-aid kit before a camping trip. Plus, don't forget to pack your prescription medication as well.
10. Portable Phone Chargers
And finally, we have portable chargers for your phones or other electronic devices.
In addition to the basic purpose of calling someone, we use our phones for almost everything these days. From clicking photos to reading books to navigation to watching a movie.
Which is why you can imagine the dismay you might face if your phone runs out of battery.
While some campsites do offer electric hookups, there are some that don't. So, just to be safe, don't forget to carry a portable charger to always keep your devices charged.
Conclusion
Packing for a camping trip can be stressful, especially if you're doing so for a big family. There would surely be items that you forget packing or didn't even think about.
It's important to be prepared for such situations and one way to do so is to have a checklist that lets you remember everything you need to pack to make your camping trip a success.
Check out our Ultimate Guide to Summer Camping -- your one-stop resource for everything related to camping. Everything from tips, tricks, and expert advice for family camping in Saskatchewan.