During the summer, there are plenty of activities for you to engage in while camping in Saskatchewan.
These can vary from those that require you to be highly active to those that are more relaxed. Depending on what your preferences are, here are a few things to try:
1. Hit the lake
One of the benefits of camping during the summer is that you can enjoy taking a dip at a nearby lake. Take your kids for a quick swim but make sure that you do so in a safe manner.
Always use swim noodles or life jackets in case you're not confident in your swimming capabilities.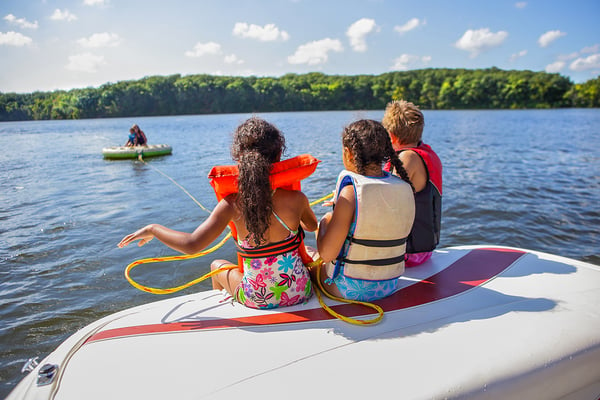 Apart from that, camping near a lake also opens the door for many water-related activities like fishing, boating, canoeing, kayaking, and paddling using a stand-up board.
You must maintain all the necessary safety precautions while participating in these water-related activities. Carry life jackets, wear proper swimsuits, and inform someone before you head in.
CAA PRO TIP: Since a lake can get cold fast on a hot day, keep an eye out for signs of hypothermia. Water draws the heat out of your body ten times faster than air. So, if your teeth start to chatter it's a sign that you must get out of the water and warm yourself under the sun.
2. Hiking
Hiking, one of the most common activities among campers, allows you to explore in-depth the scenery around your campsite while spending some quality time amidst nature.
Before heading out, check out all the different types of trails present in the park you're camping at.
This also includes information related to the total distance you will have to walk, the time it will take for you to complete the trail, and finally the level of difficulty of that trail.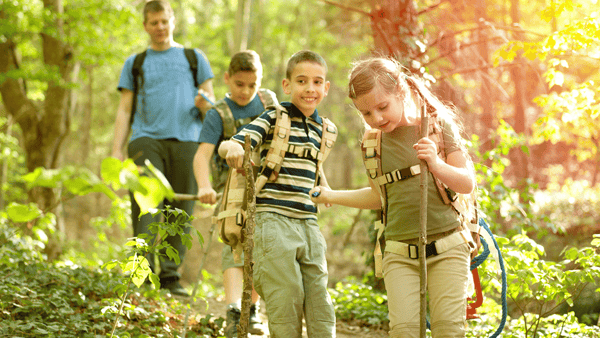 Carry plenty of water with you while hiking as it's a good idea to keep your body hydrated. Plus, it never hurts to carry some easy-to-eat snacks like granola bars or protein bars to keep yourself energized.
Again, if you can, inform others of your excursion as a precautionary safety measure.
CAA PRO TIP: While on the trails there's a good chance that your cellphone coverage will be limited. Therefore, do not rely on your phone as a map. Also, review all wildlife-related information that the park authorities might have put out before starting.
3. Biking
Biking is another great way for you to explore the park. There are many cycling trails present near a campsite for you to check out. You can also just enjoy a casual pedal with your kids.
Maintain all safety precautions while biking on the park trails. Always wear a helmet, check the air in your tires, check your brakes and chain, and never stray away from the designated trails.
4. Play cards or board games
Playing board games or cards can be fun for the whole family to enjoy together while camping. Games like Uno, Jenga, Crazy Eights, and Go Fish are some popular options that don't take a lot of space.
There's also the option of keeping kids busy during downtime by keeping them engaged in their activity books which include reusable water painting books, Sudoku, or dot-to-dot books.
A key benefit of board games or card games is that they can be played indoors as well, which makes them a great means to have fun in case it rains.
5. Play a sport or an outdoor game
If you're camping in a group, you can take the opportunity to play a type of organized sport or an outdoor game. Some options include ultimate frisbee, disc golf, football, soccer, cornhole, etc.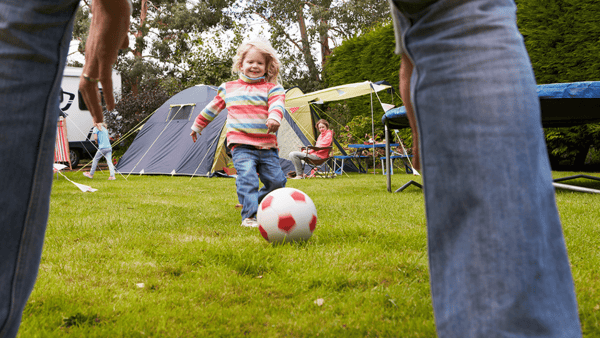 Some campgrounds might even have dedicated playing areas like a volleyball court or a tennis court, which campers and their families can utilize to have fun during the day.
For kids to have a good time, you can also try your hand at mini-golfing.
6. Park Activity Kits
Some Saskatchewan parks might offer Park Activity Kits (P.A.Ks) to families. These can be found at their visitor centers. The kits offer campers a safe way to explore and learn about nature and landscapes.
The kits include crayons, arts & crafts, DIYs, camping bingos, animal word searches, etc. There's also the option of engaging kids in scavenger hunts.
Little kids love having a pale, shovel, and water to play with at the campsite.
On those really hot summer days, a small blow-up pool can be entertaining as well. Just make sure your campsite has water nearby that is accessible.
7. Check out the visitor center
Speaking of visitor centers, you can check out the park visitor center as well while spending time at the campground and learning more about the park and its history.
Plus, there might be displays about the different types of flora and fauna present in the park.
8. Read books
If your children can read, then a good book can also be a great way to pass the time.
Camping is supposed to be an escape, and for those who love it, what better way to relax than to read a book in the calmness of nature while enjoying the serene views nearby.
9. Cook
While camping, you may have a little more time on your hands when cooking as opposed to cooking at home. This can be a great opportunity to go all out and cook something big for your family.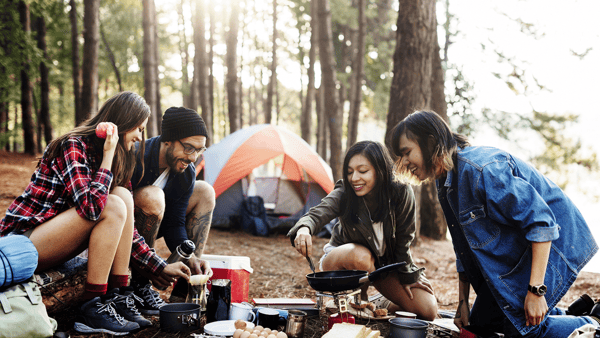 You can also turn it into a fun-filled family activity where the kids can act as little helper sous-chefs.
Roasting marshmallows over the fire or making rainy-day s'mores is also a good way to spend quality time with your family.
10. Geocaching
If you're interested in finding hidden treasures, geocaching is the activity for you.
Geocaching is a modern-day treasure hunt, where people use their GPS (global positioning system) to find the unique natural and cultural heritage of the parks that they're camping in.
This is a fun and educational activity, especially for kids, where they use the latitudinal and longitudinal coordinates to locate the hidden "cache," which is a small box with a logbook to record their visit.
11. Bird watching or wildlife viewing
Seeing wild creatures in their natural environment is a big highlight while visiting campgrounds. In Saskatchewan, many parks offer you the chance to see different types of birds and wildlife animals.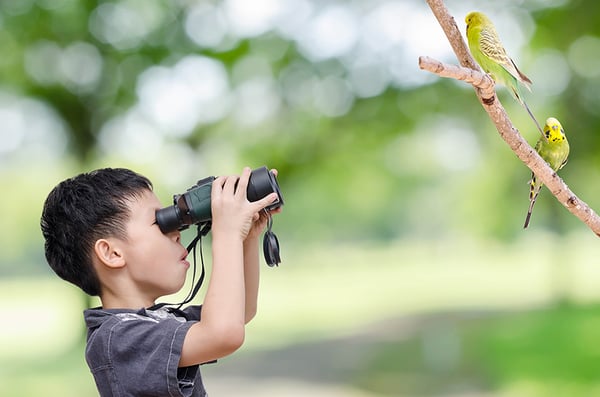 These include red squirrels, stag whitetail deer, and birds like ospreys. An important thing to keep in mind is to be mindful while watching the wildlife and not disturb their natural habitat.
12. Stargazing
Finally, you can engage yourself in stargazing during the night. If you're camping in the northern parks of Saskatchewan, you can also catch a glimpse of the Aurora Borealis (northern lights).
Even if you're not able to watch the northern lights come out and dance, you can still enjoy the mesmerizing view that the twinkling stars in the sky have to offer.