It's not uncommon for people to take their pets (especially dogs) camping with them. However, before doing so, you must ensure that you cover all your bases.
Here are 6 essential tips to keep in mind when taking your dogs to the camp.
1. Find out the pet policy
The first and foremost step is to find out whether the campground you're planning to go to allows dogs. While most do allow pets, there might be some that have a strict no-pets policy.
Once you know that information, it's important to also understand the leash requirements that your chosen campground has. For example, some grounds might have a requirement that your dogs must always be kept on a leash when they're in the presence of other campers.
Finally, there's the issue of barking, which is a common dog behaviour.
If your dog barks a lot, it could become a problem for other campers. Be realistic about your pet's suitability for camping and come prepared with a plan for addressing barking.
2. Take a trip to the vet
While it's anyway important for your dog to be up-to-date on his/her vaccinations, it's especially important before you head out to camp as some campgrounds could have that as a requirement.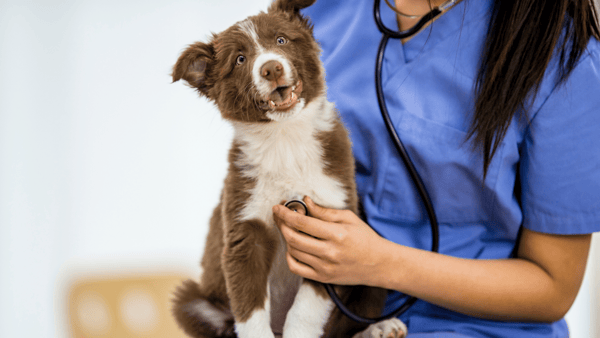 Camping outdoors can also lead to dogs getting fleas and ticks.
Therefore, you should talk to your vet beforehand to discuss the risks involved and understand the preventive options available so that you can make an informed decision.
Lastly, along with having identification tags, get your dog microchipped or check their chip function and update your contact information with the microchip database before heading out into unfamiliar territory.
In the unfortunate event that you get separated from your dog(s), the microchip can be scanned at any veterinarian clinic or shelter to reunite you with him/her.
3. Pack the right supplies
If you're planning to bring your dog, it's obvious that you'll have to bring his/her supplies as well.
These include things like food, clean water, bowls, treats, towels, blankets, toys, waste bags, medication, and leashes. It's also a good idea to pack an extra leash/harness just in case yours break or are lost.
Pack extra quantities of food, water, and medication for your dog, in case your stay is prolonged unexpectedly. In addition to that, it's always good to know where the nearest animal hospital and pet supply store is in case there's an emergency.
4. Bring lots of food
It's estimated that 50% of pet parents take their dogs hiking with them. When pets are more active than normal, they may need more calories to keep them fueled.
Sask Hiker, Jay Brown, has a few tips for going on a backcountry hike with your dogs. One of those is to take more food for dogs than what they normally eat. He says:
"When I meal plan my dogs' food, I budget an additional 20% for their meals. I feed my dogs twice a day, once in the morning and again at night. I also bring enough for one safety meal in case we spend more time in the bush than expected. You never know when you might have to spend more time out on the trail and having this extra meal can go a long way in making sure everyone gets out in good shape."
For more such cool tips for camping with dogs, check out Jay's blog.
5. Don't leave dogs unattended
Even though your dog might be impeccably trained, whenever you're camping, never leave him/her unattended.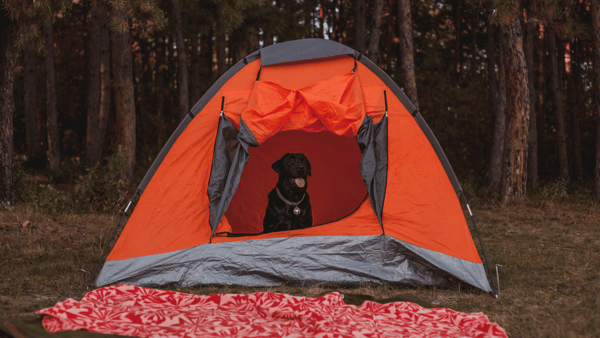 More than the safety of other campers, this is to ensure the safety of your dog. You never know how campers, pets, and other animals might behave or what terrain lies out in the wild.
While hiking or walking, always keep your dog on a leash so you can control their access and response to people, pets, and wildlife.
6. Get Pet Insurance
Camping in the wilderness sure comes with its set of challenges. While you might be familiar with the terrain and other obstacles present, there's always a risk that your dog could become sick or injured during your adventure.
It can be a costly affair if your dog suffers an unfortunate injury and you're burdened with unforeseen medical expenses.
Therefore, to ensure that you have some well-deserved peace of mind, get pet insurance for your dog to help keep him/her and your wallet protected while you're out and about.
Also, as a bonus, if you're a CAA member, you can save 12% off your pet insurance premium with our partner Pets Plus Us.
Camp with confidence this summer
From things like knowing what to pack for your dogs to learning about the fun activities you can do, it's always great to go camping when you have everything planned and prepared beforehand.
Which is why, we're proud to present the Ultimate Guide to Summer Camping – your one-stop camping resource. Download today and get access to detailed camping insights and so much more!
Know everything about summer camping in Saskatchewan and set up camp with confidence.

*CAA Members receive a preferred rate of 12% off. Non-members receive a preferred rate of 7% off.
The information herein is summarized, the actual policy issued Terms and Conditions will prevail. All Pet Insurance plans have limitations and exclusions. Specific products, features, rates, and discounts may vary by province, eligibility, and are subject to change.
© 2022 All rights reserved. Pets Plus Us Pet Insurance policies are underwritten by Northbridge General Insurance Corporation, distributed by PTZ Insurance Services Ltd. & Société d'Assurances Collectives (Sodaco) Inc. in Quebec. Pets Plus Us Pet Insurance is available in all provinces and territories.
® CAA trademarks are owned by, and use is authorized by, the Canadian Automobile Association.