Apart from great things like picturesque sunsets, blue skies, and the Roughriders, Saskatchewan is also infamous for its erratic weather.
While it's true that the province does receive its share of bright, sunny, and hot days, it's also true that it often sees the temperature drop to almost zero degrees the very next day.
Case in point, Victoria Day long weekend, May 2021.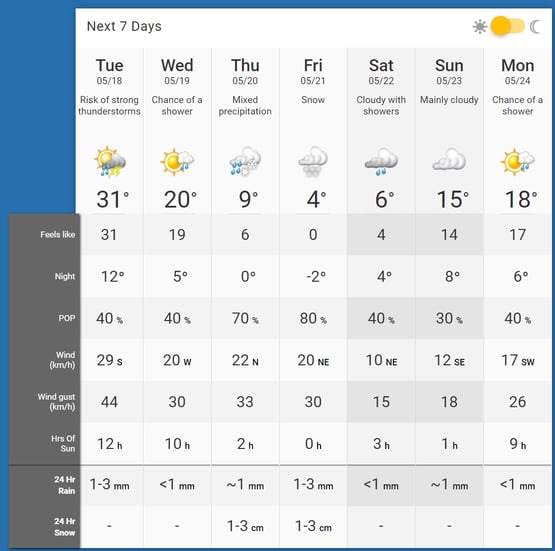 Such drastic drops in temperature aren't pleasant to experience, especially if you're one of those people who has already made plans for the long weekend to go out camping with your family.
If you're about to see your camping plans literally being washed away in front of your eyes, don't worry. Here are a few tips and tricks on how to save the day and camp in cold and wet weather conditions.
1. Choose an elevated campsite
While choosing the flattest surface is a good tip for those planning to set up camps during normal weather conditions, choosing an elevated campsite is the best idea when camping in the rain.
The reason for that is quite simple. If it rains while you're camping, the water will always flow away from your tent and not create a puddle right outside.
CAA PRO TIP: Do not set up your tent right underneath a tree. The constant dripping of water might sound serene at first, but we're pretty sure it'll turn irritating very soon. Plus, there's also the grim chance of a branch breaking and falling on your tent in case of a thunderstorm.
2. Use a tarp over your tent
It's a good practice to carry extra tarps with you when you're camping.
Rainwater has potential to create muddy conditions in front of your tent. Therefore, to save yourself from such circumstances, you can hang a tarp at a "reverse V" angle over your tent.
Doing so will ensure that whenever it rains, the water slides down from either side of the tarp on the sides instead of accumulating in front of your tent and ruining your mood.
3. Make proper sleeping arrangements
In addition to having a tarp over your tent, you must also use one underneath your tent. This will safeguard your tent from the flooding from the ground below and allow you to sleep peacefully.
It's also a good idea to use more than one sleeping pad for your mattresses. This will help you keep warm by shielding you from the cold earth below.
Finally, there's also the option of using a bivy bag while sleeping. A bivy bag or a bivy sack (short for bivouac sack) is a single-person, small-sized shelter that provides an addition layer of protection.
CAA PRO TIP: Put your sleeping bag inside the bivy bag to give yourself some extra warmth and avoid any water from dampening your sleeping bag.
4. Have waterproof clothing
This is probably a no-brainer. Carrying waterproof clothing options is a must if rain is going to be a big factor during your camping trip. Not only does this help you enjoy your trip better by allowing you to move around freely, but it also helps maintain your body temperature in case you get wet or cold.
Ensure that you always carry good quality rain jackets and pants with you. Such clothes, made of polyester and quick-dry synthetics, can dry up quickly in case you get wet. Cotton clothes are a bad choice when camping in the rain because once cotton gets wet it stays wet.
In addition to that, waterproof shoes and socks are highly recommended as well because walking all day with wet shoes might not seem to be a problem but will surely be a problem at the end of a long day.
5. Bring plastic or Ziploc bags
Let's be honest. Even if it's raining while you're camping, you do not plan to spend the entire time couped up inside your tent. Afterall, you came out for an adventure and walking in the rain is just that.
Therefore, the best way to enjoy a walk in the rain is to be prepared for it. Carry plenty of plastic or Ziploc bags with you so that you can save important things like your phones, IDs, and cash from getting wet while enjoying the rain.
Furthermore, you also carry some big plastic bags with you so that you have the option to store your wet shoes, jackets, and clothes in them after the walk. Doing so will not dampen the tent interiors.
CAA PRO TIP: While inside your tent, store important items in the plastic or Ziploc bags so that you're always protected in case your tent leaks from the top or floods from the bottom.
6. Take the right type of food
During camping in cold and wet weather conditions it's important that you always keep your body temperature warm. A great way to do so is to increase your intake of calories.
Having easy-to-eat food options are a good idea to not only help keep your body temperature warm, but also make you feel good. Who wouldn't feel good drinking a sizzling cup of hot chocolate after a pristine walk in the rain, right?
Apart from that, there are always easy-to-eat food options like granola bars, hummus and veggie sticks, nutty berry trail mix, stacked crackers, etc.
7. Bring plenty of games
While camping, you can be adventurous and think about taming the rain monster, but let's face it – not being able to get out of your tent due to the rain is surely a plausible scenario.
In such instances, don't let that dampen the camp mood. It's a good idea to carry plenty of games and other such items with you to turn a gloomy, rainy day into a fun-filled experience.
Cards are a great option to take with you as they're convenient to carry and easy to handle during messy, rainy situations. Portable board games are great too.
8. Carry extra clothes
Again, regardless of you maintaining all the necessary precautions, you must be prepared to entertain the worst-case scenarios. In this case, let's assume that all your clothes get wet.
To tackle such a situation, while camping in the rain, it's always advisable to carry extra set of clothes, more than what you would generally carry under normal camping conditions.
As mentioned before, it's imperative that you maintain your body temperature in cold and wet conditions and, therefore, always having dry clothes handy will ensure you're always warm and safe.
9. Keep dry firewood handy
Having dry firewood handy at all times is a must while camping in the rain. The lesser the moisture in the wood, the faster it will catch fire. A campfire after the rain stops is a great way to enjoy camping.
Depending on the type of camping, you can be prepared accordingly. In the case of front country camping, you can store the firewood either inside your car or underneath it if the parking is covered. In case of backcountry camping, store all firewood in a big plastic bag or under a tarp.
CAA PRO TIP: Buy firewood and store it in a plastic before you leave for the campsite because there might be times when the firewood at camp is already wet when you arrive. Once at the campsite, you can grab the wet firewood and stack it near your campfire to dry while you use the purchased wood.
*Disclaimer: Occasionally due to extreme fire hazards, the Ministry of Parks, Culture and Sport will issue restrictions on open fires in provincial parks and recreation sites. Visit Sask Parks for more information.
10. Have a positive attitude
Finally, the key to enjoying any bad situation is to always have a positive attitude. The rain might play spoilsport during your trip but staying positive will always help you overcome bad experiences.
Having fun and spending time with your family is what the trip is all about and there are plenty of ways to do so. From camping activities to board games to scavenger hunts, the possibilities are endless.
In case you're looking for more resources to make your camping trip a success, check out our Ultimate Guide to Summer Camping -- your one-stop resource for everything related to camping in Saskatchewan.