Over its 7,821 km length, the Trans-Canada Highway crosses through all 10 provinces, thereby making it the fourth-longest highway in the world.
With that as a starting point, it's no wonder Canadians love road trips. After all, driving is a rewarding way to explore your home province or places farther afield.
Another reason is the flexibility road trips give people to make side trips to unique roadside attractions.
For example, the next time you're in and around Regina or Weyburn, take a small detour and check out the world's largest paperclip in Kipling, Saskatchewan.
Planning and packing for a long road trip can be a complicated process though. But don't worry. We've got you covered. Read on to get some valuable tips that will help you plan an epic summer adventure.
Check if your vehicle is road ready
First things first. Before you hit the road, it's important to ensure that your vehicle is ready to endure the pressure of running constantly for a long duration.
The last thing you want is to be stranded in the middle of nowhere waiting for help to arrive. Speaking of which, we hope you have your CAA membership handy before you leave.
Here are six steps to ensure that your vehicle is up to the task.
1. Check the engine
If your vehicle is due for a service soon, we highly recommend getting a tune-up before your road trip. If not, then it's a good idea to at least check and top up the oil and coolant.
You can check the oil level by finding the dipstick under your hood and pulling it out, cleaning off the oil on it with a paper towel, placing it back in its cradle, and then pulling it back out again.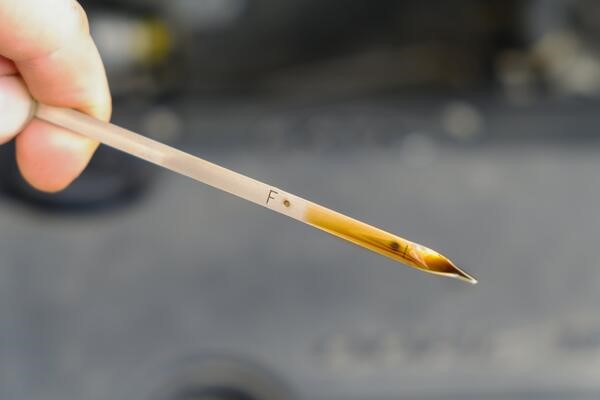 The bottom of the dipstick has two markings, and the oil level should fall somewhere between them.
While you're doing this, also check the colour and consistency of the oil. The oil must be light brown and viscous. If it's thick and black, it's time to get an oil change.
2. Inspect the exterior
Inspect your vehicle tires—including the spare one—for wear and proper inflation as well. After all, you wouldn't want a poor-quality tire 'deflating' your mood and trip, right? 😉
But in all seriousness, tires are one of the most important parts of your vehicle. Hence, always check the wear bars on them as they give a good indication of the tire tread condition.
You should also check the tire pressure using your vehicle's internal monitoring system if it has one.
In addition to tires, you must also ensure that all your vehicle's lights are functional – including the low-beam, the high-beam, the fog, and the brake lights.
3. Keep the paperwork handy
If you're planning on taking a longer road trip, chances are that more than one person would be driving. In this case, verify that all drivers have up-to-date licenses.
Another thing to keep in mind is being able to quickly access important documents when needed. As a precaution, store the vehicle's owner's manual, ownership, and insurance documents in the glove box.
You should also check your CAA membership to ensure that it's renewed. Always carry your membership card in your wallet or download the CAA mobile app to keep it handy.
CAA PRO TIP: When on the road, use your CAA membership to enjoy savings at yummy pit stops across Canada: Save 15% at Pizza Hut or Marble Slab Creamery, and save 10% at East Side Marios or Kelseys.
4. Adjust the seating
Adjust the driver's seat so that they can see clearly out of all mirrors. The seat should be at least 10 inches back from the steering wheel to avoid injury if airbags deploy.
All headrests should be adjusted so that the centre is at ear height for each passenger. Finally, make sure everyone is buckled up and that the car seats are installed correctly.
5. Hauling and storage
If you're hauling gear on roof racks or a rooftop storage box, make sure all anchors are secured. Once you hit the road, periodically check all nuts, bolts, and tie-down straps as driving may jostle them loose.
When hauling a trailer, check tires and brake lights, and properly fasten the hitch and safety chain.
Recommended Reading: 5 Things You Should Know Before You Tow
6. Check your RV
Nothing beats an RV for the ultimate in road trip comfort. However, before heading out, do all the standard checks you'd make on your regular vehicle, plus a few RV extras.
Reinstall any dry cell batteries (topping them up with distilled water) and other equipment you removed for winter storage.
Check the seals on the top of the unit and around the windows and door. Test all mechanical and electrical systems, including the heater, air conditioner, and other appliances.
Test the smoke, carbon monoxide, and gas leak detectors. Ensure the fire extinguisher is fully charged. Replace any missing items in your first aid and emergency roadside kits.
CAA PRO TIP: If you run into problems along the way, CAA's Plus RV and Premier RV plans include fuel delivery, towing, and battery boost— along with travel and trip interruption insurance. From fifth wheels and motorhomes to tent and travel trailers, you can get policies tailored to your unique RV.
Pack your vehicle efficiently
When it comes to packing your vehicle before a road trip, the key is to do so in a way that ensures that passengers remain comfortable throughout the journey and that the luggage is safely stowed as well.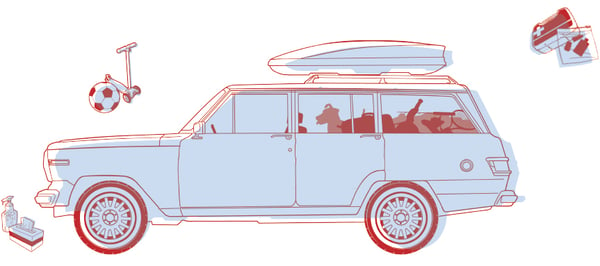 You wouldn't want to overstuff your car in such a way that it makes it uncomfortable for someone to sit or obstructs the driver's view in a way that leads to an unsafe driving condition.
Here are a few things to keep in mind when packing your car.
1. Store stuff on the roof
A great way to maximize the space inside your vehicle is to equip it with a cargo box on long road trips. However, you must ensure that you have the right roof rack and know the box's weight limit.
When stocking up the box, ensure that you pack the heavy suitcases first, followed by other stuff like sports equipment. Finally, fill in the gaps with blankets or sleeping bags to make things compact.
2. Important things in the front
The front of the vehicle must be used to store stuff that is important and handy. For example, stow napkins, tissues, and hand sanitizer in the centre console or glove box.
As mentioned before, the glove box must also contain the insurance and ownership documents for easy access during times of need. This is also a great place to store charger cables to charge your phones.
If your car doesn't have USB chargers, buy an adapter for the auxiliary power outlet.
CAA PRO TIP: Though digital auto insurance pink cards are accepted in many provinces, including Alberta, Ontario, Quebec, Nova Scotia, Newfoundland and Labrador, they're not accepted everywhere. If you're crossing provincial borders, carry your paper copy as well.
3. Heavier items in the trunk
The trunk of your vehicle must be used to store all the heavier (and non-important) stuff. When we say 'non-important' we mean stuff that you won't need to access urgently while you're driving.
While stocking, ensure that you keep all the heavy items on the bottom and the lighter or crushable stuff on top. However, don't stack items so high that they obstruct your vision in the rearview mirror.
You can use a vacuum-seal bag to shrink down bulky things like bedding and pillows.
You can also store the first aid kit, roadside emergency kit, and any other medication in the trunk but ensure that it's easy to navigate and access in the case of an emergency.
4. Pack things to pass the time
Taking a road trip can be fun, but there's also the possibility of mental fatigue starting to settle in during those long trips. One must be prepared for such scenarios by packing things to provide entertainment.
Depending on your preferences, you can pack a variety of things. You can stash some colouring books, magazines, and/or novels in seatback pockets.
You can also pre-load a tablet with videos and music playlists. Check out the CAA Road Trip Playlist on Spotify for you to listen to and enjoy on your road trip.
One can argue that the secret to any successful road trip is an epic music playlist, so it's always a good idea to set your list before hitting the gas pedal to avoid distracted driving.
Finally, if your kids are in car seats, you can use the space below their feet for extra storage space. You can also tuck items like extra shoes and fuzzy socks beneath the front seats.
Stay protected wherever you go
It's also important to take care of all safety aspects before you hit the road. To do that, we recommend brushing up on some basics to ensure that you're covered from coast to coast.
Travel insurance. One misconception about travel insurance is that it only covers you during international travel. On the contrary, travel insurance protects you against the financial impacts of illness and unexpected emergencies no matter where you travel.
It's a blessing for inter-provincial travel, especially because your provincial health plan may not cover all medical costs when you leave your home province.
CAA membership. One of the most essential things to pack for any road trip is a CAA membership. Having a membership gives you the peace of mind to tackle any roadside challenge with confidence.
Your membership also gives you complimentary personal accident insurance coverage of at least $5,000. Plus, it covers you and not your vehicle, which means you're protected irrespective of being the driver, the passenger, or even if you're driving a rental vehicle.
In case you're not a member yet, check out our different membership plans. From city drivers to seasoned road-trippers to those who like to take the scenic route, we have plans that fit every lifestyle.