As the road trip season begins, we're sure that you must have already dusted off your RVs and cleaned your boats for some fun, family summer trips.
Whether you plan to tow a camping trailer, a watercraft, or even a car behind your RV, here are 5 things you should know before you tow that'll help keep you safe on the road.
1. Find the right combination
All vehicles are rated to tow up to a certain weight, but more power doesn't always mean better towing.
Therefore, it's important that you determine the right combination of your vehicle capacity and the weight that you can safely tow.
This will help keep you and your vehicle safe in case you run into unexpected terrain.
Scott McIntyre, CAA Saskatchewan's Vice President of Automotive Services, agrees. He says, "You can downshift to climb a mountain, but you can't cross the Prairies in second gear at 4,000 RPM."
CAA PRO TIP: Choose aerodynamic camping trailers and boats over boxy designs because the former can cut through the air better, which puts less strain on the tow vehicle.
2. Think about stability
When thinking about towing a trailer or any other equipment, stability is very important.
To ensure that, you must have a stable hitch setup. A trailer hitch, also known as a tow hitch, is a metal device that is mounted to the frame of your towing vehicle.
It acts as a connector to which you hook a trailer using a trailer coupler. See the image below.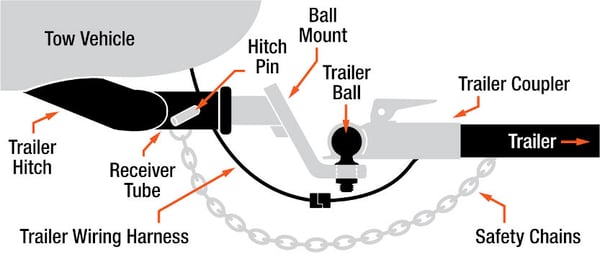 Photo Credit: https://www.curtmfg.com/basic-towing-components
A good hitch setup puts the ball mount close to the rear of your vehicle. In general, the further it is from the rear axle, the less stable the combina­tion will be as the trailer exerts more side-to-side leverage.
This is the reason why vehicles with shorter rear over­hangs tend to tow well, and why a fifth wheel—with its pivot point over the rear axle—provides very good stability.
3. Keep weight distribution in mind
The configuration of the ball mount and hitch also impacts the effectiveness of a weight distribution system, which is designed to transfer weight from the trailer to the vehicle axles.
"If the rear of the tow vehicle sits too low," McIntyre explains "it's more likely the ball mount is not configured properly—rather than it being a problem with the vehicle springs."
4. Maintain your trailer
Ensure that the trailer or other equipment you're planning to tow is in good shape before you leave. Check the tires for proper inflation levels on both your tow vehicle as well as the trailer.
Check the trailer's brakes, too. For electric brakes, roll forward slowly and activate the brake control on the dash to see if it stops the vehicle.
For boat trailer-style surge brakes, backup uphill (on a driveway for example) to see if the brakes engage.
5. Check before you tow a car
If you plan to tow a vehicle behind your RV, first check that the car is suitable for flat towing.
Always use the correct base plate kit for the vehicle in question to secure it to the tow bar.
Heavier cars will also need a supplemental braking system. Never back up when the car being towed is connected because it's surprisingly easy to bend or damage the tow bar.
Tow with confidence. Make your RV travel worry-free at just $31/year.
Conclusion
Remember, the roads will always be busy during the summer due to increased vehicle traffic, including farm machinery. Be alert and take your time to reach your destination.
Summer also means road construction season, so watch out for construction crews on our highways, obey the posted speed limits, and drive with extreme caution.
Move over, if safe to do so, and always slow down to 60 km/h when passing working first responders including tow truck operators, law enforcement, paramedics, and firefighters.