Whether it's an extended trip across the wilderness with just a backpack or a weekend getaway at a full-service campground, there are different options when it comes to camping in Saskatchewan.
And while it may seem overwhelming when people talk about the different types of camping, primarily there are two main types – front country and backcountry camping.
Get the Ultimate Guide to Summer Camping – Your One-Stop Camping Resource!
Front Country Camping
Front country camping, also known as "car camping", is probably the most popular type of camping for families with young children. Front country campgrounds allow people to drive their vehicles right up to the campsite to unload and set up camp.
A distinguishing feature of a front country campground is that they often provide access to essential services like running water, restrooms, firewood, playgrounds, and even showers.
Most front country campsites have electrical or water hookups for RVs and campers as well as disposal facilities and trash dumpsters. Individual campsites usually include a picnic table, fire pit, and parking.
Front country locations can usually be reserved in advance, tend to be more crowded, and attract a wider range of visitors than backcountry locations.
Backcountry Camping
Backcountry Camping is more suitable for experienced campers.
Saskatchewan Parks refers to backcountry campgrounds as "areas meant for the campers who enjoy a more rugged camping experience with limited or no services."
Most of the time, backcountry campgrounds are located in remote areas and typically can't easily be accessed through roads. Campers are often expected to hike, bike, ski, or canoe to their campsites.
Backcountry camping is tougher than front country camping as people don't have easy access to their vehicles in case of an emergency or bad weather.
In Saskatchewan, camping can be broken down into four main categories:
1. Tent Camping
Tenting is one of the most popular and economical ways in which families camp in Saskatchewan.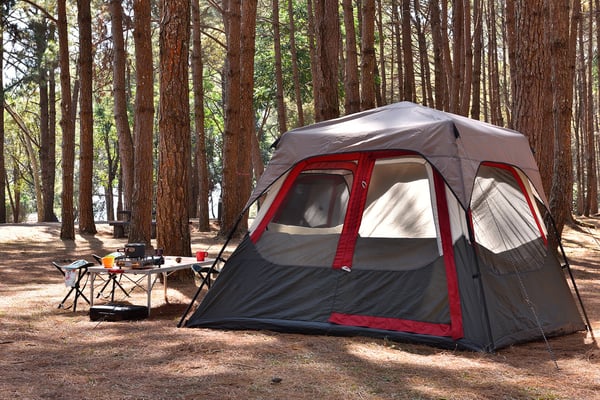 For beginners, setting up a tent can be a little overwhelming. However, once you overcome that hurdle, tenting is a great way to experience the beauty of nature while spending some quality time outdoors with your family.
2. Van Camping (Campers and RVs)
The second most common way for people to camp is in their campers and RVs (recreational vehicles).
While an RV is a motor vehicle that comes equipped with the luxuries of a mini home, a camper is a trailer that consists of basic house amenities and must be towed by a vehicle.
A house on wheels, as they're both commonly referred to, RVs and campers offer people a comfortable option to camp outdoors while not giving up on certain luxuries of living in a typical "home setting".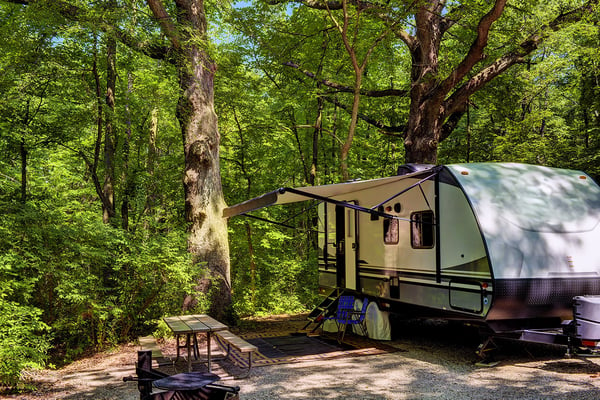 A big advantage of van camping is that people have a lot more flexibility while travelling. Anywhere you park effectively becomes a potential campsite. However, before doing so, ensure that it is allowed by the law and that the conditions are safe.
Van camping can keep you protected from extreme heat and cold but owning and towing an RV or a camper can be an expensive affair.
CAA PRO TIP: Before purchasing a camper, check your vehicle's gross weight or towing capacity and ensure that it is capable to tow your camper. Exceeding the towing capacity can cause your brakes to fail or not perform at their best.
3. Backcountry Camping
Backcountry camping is a great way to experience the less-traveled wilderness. In Saskatchewan, there are designated backcountry campgrounds available where you can enjoy all the wonders of the backcountry with the benefits of a few simple comforts (i.e., pit toilets, firewood, and bear caches).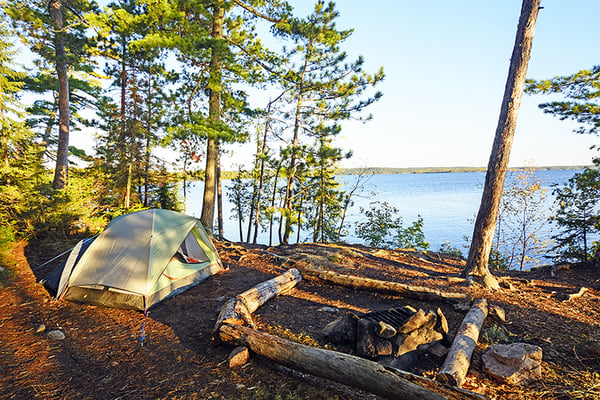 Such camping is best for more experienced hikers and campers since it involves a lot more effort.
It involves spending a good amount of time hiking, skiing, or canoeing to a backcountry campsite and then setting up camp there. Preparation is vital as you will need to pack and carry all your essentials.
If you're looking for the purest form of camping where you can completely cut yourself off from your home life and the outside world, then this is the type of camping for you.
CAA PRO TIP: Make note of the weather conditions and inform someone before leaving to be well-prepared for emergencies. Also, carry enough water to stay hydrated. Ideally, in addition to a personal filtration system, you should always carry 32 ounces or more of water with you.
4. oTENTik Camping (Glamping)
If you're looking for a relaxing and easier way to experience camping in Saskatchewan, then oTENTik camping (also known as glamping) is the best option for you.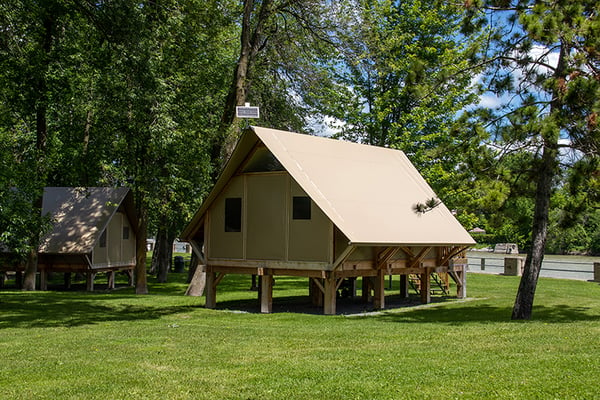 Exclusive to Parks Canada, oTENTik is a spacious blend of a tent and an A-frame cabin equipped with beds and furniture on a raised floor. The Beaver Glen Campground, in Prince Albert National Park, offers camping in authentic oTENTik tents.
Therefore, if you're looking to experience camping but don't want to spend time setting up a tent or hauling a trailer, then choose to stay in an oTENTik tent.
Ready to hit the road? Don't leave without us!
If you're new to camping and are looking for an all-in-one resource that'll help you experience camping in the best way possible, we'd highly recommend you get our Ultimate Guide to Summer Camping.
In it, you'll find some great insights from some of Saskatchewan's top and experienced campers about the best ways to plan your trip, how to set up your camp, and things to do while at the camp.
Plus, it's always a good thing to have peace of mind and stay protected while you're on the road. Starting at just $8 a month, get access to Canada's most-trusted roadside assistance all year long.
Happy camping!