As the snow begins to melt, the sun begins to shine, and we roll into Spring, it's time to buckle up and hit the road because it's road trip time.
In this blog post, we'll be revealing some of the best-kept secrets of Saskatchewan's road trip routes, showcasing the hidden gems that are just waiting to be explored.
Forget the crowded tourist hotspots and attractions. We're all about uncovering the lesser-known, off-the-beaten-path routes that will make your road trip truly unforgettable.
Whether you're a nature lover, a history buff, or simply someone who loves the open road, there's something for everyone in Saskatchewan.
From the picturesque prairies to the rolling hills, here are the 5 best Saskatchewan Road Trip routes that are guaranteed to take your breath away.
1. Saskatoon to Prince Albert
The first leg of our Saskatchewan road trip adventure begins with the trip from Saskatoon to Prince Albert. From quaint towns to stunning natural scenery, this route is full of surprises.
First up, we have the delightful town of Rosthern, where you can take a break from the road and visit the Station Arts Centre to discover some of the best local art and culture in the area.
Plus, the cafe there serves up some delicious meals that will keep you fueled for the road ahead.
Next, you can take a short detour from Highway 11 to check out the Batoche National Historic Site, where you can learn about the Metis people and their history.
You'll be transported back to the 19th century and learn about the famous Battle of Batoche. It's a great opportunity to learn about the rich culture and history of the area.
As we enter Prince Albert, don't forget to check out the Diefenbaker House Museum.
This museum is dedicated to the life and legacy of Canada's 13th prime minister, John Diefenbaker. It's a fascinating glimpse into Canadian history and a must-see for any history buff.
And of course, no trip to Prince Albert is complete without a visit to the famous Prince Albert National Park where you can explore the stunning natural beauty of the area.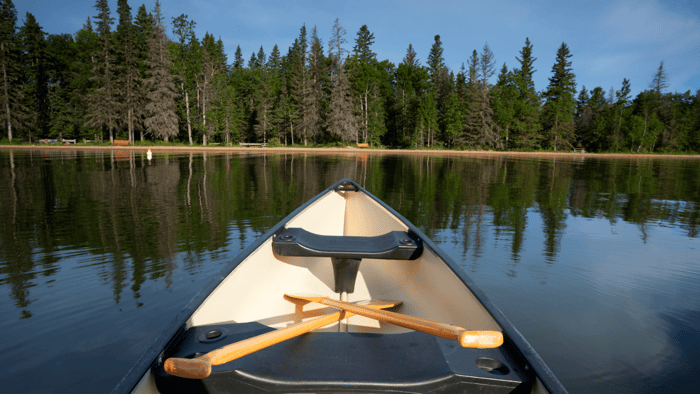 Take a hike, rent a kayak or canoe, or simply sit back and enjoy the peaceful surroundings that include crystal-clear lakes and towering trees.
CAA members can SAVE up to 10% when pre-purchasing a Parks Canada Discovery Pass at any CAA Store.
2. Regina to Grasslands National Park
The trip from Regina to Grasslands National Park will take you through the heart of the province, showcasing some of the most beautiful and underrated natural landscapes in Canada.
First up, we have the quaint town of Assiniboia, where you can delve into the rich history of the area at the Assiniboia & District Historical Museum.
From exhibits on early pioneers to displays of local art and culture, you're sure to come away with a newfound appreciation for this hidden gem of a town.
Next up is the Wood Mountain Regional Park, where you can explore some stunning beauty. Take a hike, rent a bike, or simply relax and take in the breathtaking views.
As you continue your journey, you can make a stop at the T. Rex Discovery Centre.
It's the perfect opportunity to get up close and personal with some prehistoric creatures and learn about the rich history of paleontology in the area. Plus, who doesn't love a good dinosaur selfie?
And finally, the last stop on this road trip is Grasslands National Park.
This park features rugged badlands, rolling prairies, and stunning wildlife. You can go on guided hikes or simply relax and take in the serene surroundings.
CAA PRO TIP: Pump up your savings while on the road. CAA Members SAVE 3¢/L on fuel at Shell.
3. Waskesiu to La Ronge
Number 3 on the best Saskatchewan road trip routes is the journey from Waskesiu to La Ronge.
While the trip to Waskesiu is a great journey on its own, the highlights of which we've already talked about in the 'Saskatoon to Prince Albert' point above, there's so much you can do while you're there.
Being in Waskesiu means being inside the Prince Albert National Park, which means you can also explore over 3,000 square kilometers of pristine wilderness.
As you reach the charming town of La Ronge, situated on the shores of Lac La Ronge, you can explore Saskatchewan's far north and indulge in year-round recreational opportunities like canoeing and fishing.
La Ronge is also home to some of the best cross-country ski trails in North America and the Lac La Ronge Provincial Park, which has close to 100 lakes and more than 30 documented canoe routes.
For those of you who're thrill-seekers and are looking for the adventure of a lifetime, you can go a bit further and see the beautiful Nistowiak Falls, located on the Churchill River.
The journey to Nistowiak Falls, which is termed as 'one of the highest and most beautiful natural waterfalls in Saskatchewan', is not easy though. The falls are only accessible via floatplane or boat.
4. Saskatoon to Cypress Hills Interprovincial Park
Get ready to explore the stunning natural beauty of Cypress Hills Interprovincial Park on our fourth Saskatchewan road trip route.
The park can be reached easily from anywhere and is tucked away in the southwestern corner of the province and offers plenty of breathtaking scenery and outdoor adventures.
While on the road from Saskatoon, you'll pass through the stunning landscape of the Great Sandhills.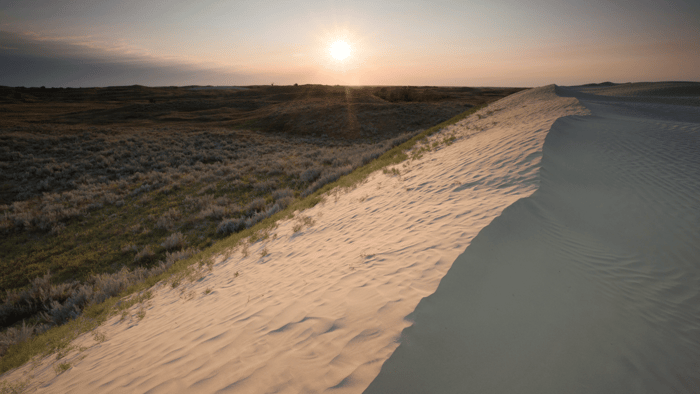 It's a unique natural wonder, with towering sand dunes that stretch as far as the eye can see. It's the perfect spot to snap some photos, take a leisurely hike, or simply marvel at the stunning landscape.
Next up on the route is the town of Maple Creek, where you can fuel up on some delicious local food or check out the famous Cowtown Kids Toy & Candy, the largest independent toy store in Saskatchewan.
At this stage, you have the option of taking a detour and checking out the Saskatchewan Landing Provincial Park, which offers plenty of outdoor activities like hiking, fishing, and boating.
If you choose not to, then continue till the time you arrive at Cypress Hills Interprovincial Park.
Once you're there, the possibilities for adventure are endless. Take a scenic hike through the forest, paddle down the river, or simply relax and soak in the beauty of your surroundings.
And for the adrenaline junkies among us, be sure to check out the park's zip-line and aerial adventure park for an unforgettable thrill.
If you're in the mood to drive a bit more, you can visit the Fort Walsh National Historic Site, located just outside the park. It's a fascinating look into the history of the area, with exhibits and demonstrations showcasing life on the prairies during the late 1800s.
5. Regina to Saskatoon via Moose Jaw
And last, but by no means the least, the road trip between two of the most-popular cities in the province – Regina and Saskatoon – but with a twist that involves a trip through Moose Jaw.
Instead of the traditional route from Regina to Saskatoon through Highway 11, take the Trans-Canada Highway first to Moose Jaw and explore the city that boasts the world's largest moose statue.
But that's not all that the town has to offer.
Make sure to stop by the Tunnels of Moose Jaw and take a tour through the underground passageways that were once used for bootlegging and other nefarious activities. Don't worry, it's all legal now. 😎
As you continue north, take a detour to the town of Craik, where you can visit the Craik Sustainable Living Project. Learn about sustainable living practices and even take part in a workshop or two.
Next, head to the town of Davidson and check out some cool roadside attractions that include the 'world's largest coffee pot' that stands at 24 feet tall and has the capacity to hold 150,000 cups of coffee.
Finally, make your way to Saskatoon, which is the largest city in Saskatchewan.
Take a stroll along the beautiful South Saskatchewan River and visit the Remai Modern, a world-class art museum with a stunning collection of contemporary and Indigenous art.
Some additional tips for planning a road trip
So now that you're officially a road tripper, ready to hit the highways and byways of Saskatchewan, here are a few extra tips and tricks to help you and your family stay safe.
First things first, make sure you pack for all kinds of weather. Saskatchewan is notorious for having pretty erratic weather, so bring layers and be ready for anything.
Also, don't forget the essentials like sunscreen, bug spray, and a good hat to protect yourself from all the elements. Download our detailed road trip preparation checklist for more information.
In terms of finding accommodation, there are plenty of options along the routes we've outlined.
From campgrounds to hotels, there's something for everyone. Make sure to book ahead of time, especially during peak season, to ensure you have a place to stay each night.
You can also use your CAA membership and enjoy exclusive deals and discounts on various hotel chains across the province like Best Western, Marriott, Delta, Dakota Dunes, among various others.
If you're looking for the warmest weather, the best time to take a road trip is from May to September.
However, that is also peak tourist season, so accommodations may be harder to come by and attractions may be more crowded.
If you're looking for a quieter trip, consider visiting during the off-season, but be prepared for colder temperatures and extreme weather that can lead to low visibility and unsafe driving conditions.
Therefore, to be safe while you're on the road and to ensure that you can travel with confidence and peace of mind, always remember to keep your CAA membership handy and call for help when needed.
And lastly, remember to fuel your adventure and enjoy valuable savings at Shell gas stations.
As a CAA member, you can save 3¢/L every time you fuel up at a participating location. Plus, for those days when your vehicle needs a quick wash, get 10% off car washes and in-store purchases as well.
So, there you have it, folks. Explore all that Saskatchewan has to offer with happiness and confidence.
Safe travels!