Travelling in the "new normal" can be complicated. From keeping a track of COVID-19 testing rules to understanding the latest quarantine guidelines, things can get overwhelming very quickly.
And if that wasn't enough, there's always the chaos that comes with planning a trip itself. Where to go? Where to stay? What to see? What to do? There's just so much that goes into travel planning.
Terry Kaszas, General Manager of Travel at CAA Saskatchewan, agrees. He says, "planning a vacation can take a lot of time. On average, it can take between 10 and 20 hours to do the research. Then there's the challenge of researching an unfamiliar destination, which can take even longer."
Keeping that in mind, we're delighted to be presenting you with a few tips, tricks, and tools that will help you save time and plan your perfect vacation with ease.
1. Sherpa – Travel Restrictions Map
Under the current circumstances, every country has its own unique set of travel restrictions. Due to that, safety and peace of mind are probably the two most important things that travellers seek.
To get that satisfaction, you must stay up to date with all the latest travel guidelines related to COVID-19 testing, quarantine rules, as well as other travel restrictions.
Plus, it's always a good thing to find out about the visa regulations of a foreign destination before you start planning your trip. You might be surprised to learn that maybe that dream destination that you've been eyeing for so long doesn't need you to fill out a complicated visa application. Jackpot!
Now imagine if there was a place where you could check all this information with just the click of a button. Everything from visa regulations to COVID-19 testing rules to quarantine information.
The great news is that there is – Sherpa.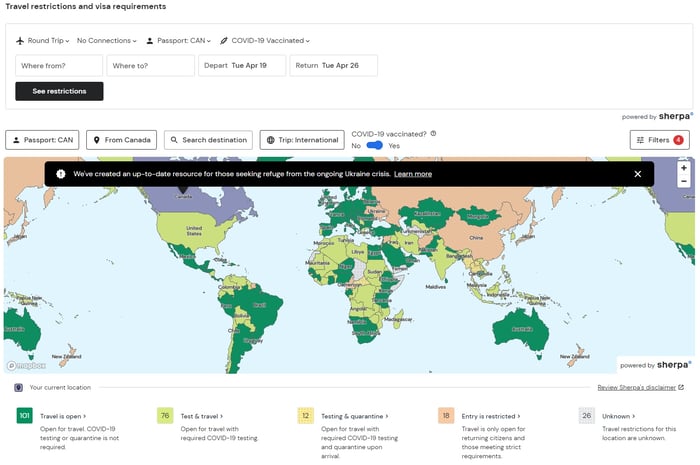 All you must do is input a few details like destination, vaccination status, travel dates, etc. and the software shows you all the relevant information you're looking for in the form of a comprehensive map.
You can trust the information that you're shown because it is pulled from the websites of governments, airlines, airports, tourism boards, public forums, media outlets, and many other credible sources.
So, before you decide where to go and book your tickets, make sure that you give Sherpa a look. We'd recommend bookmarking the webpage so that you can always make quick searches on the go too.
2. TourBooks and Travel Guides
Once you've finished researching travel restrictions and have a general idea about where you want to go, it's time to start putting some thought into building your trip itinerary.
This includes jotting down things like where to stay, which attractions to see, what routes to take, etc.
While you can do this the old-fashioned way where you spend hours Googling your way through a destination, you also have the option of checking out our Digital TourBooks and online Travel Guides.
These free PDF downloads, available to everyone, are the perfect companion for your next vacation.
Whether you're planning a trip somewhere across North America and the Caribbean or looking to take a more extensive vacation somewhere in Europe, Asia-Pacific, and Africa, our travel guides promise to provide you with all the relevant and valuable information that'll make your trip a grand success.
Just search for your preferred destination and get access to suggested itineraries, expert local travel advice, helpful travel tips, recommended hotel options, and insights around where to go, how to get around, what to do, and what not to miss.
Don't want to do the heavy lifting? We've got this. Contact us and book your dream vacation!
3. TripTik® Travel Planner
If scenic routes and road trips are your things, then using the TripTik® Travel Planner is a must for you.
Before you hit the road, plan your trip to perfection by getting access to lodging information, restaurants, fuel stations, campgrounds, visitor attractions, and shopping locations along your route.

Just add your trip origin and the destination you're heading to and let the planner do its thing.
If you're a CAA member, you can also use the TripTik® travel planner to enjoy plenty of membership-related savings. Using the planner, you can get find out about CAA/AAA partner hotels, CAA Rewards® shopping partners, and CAA-approved auto repair facilities along your travel route.
4. International Driving Permits
Speaking of road trips, here's an important tip for all you adventure enthusiasts looking to hit the road in a foreign country – get an International Driving Permit (IDP) before leaving.
If your vacation involves you driving a car in a foreign country, then chances are high that you will need some type of document that will support and substantiate your valid Canadian driving license.
And, as the name suggests, an IDP allows you to do exactly that. Once you get an IDP, it is valid for one year from the date that it was issued and can be used in more than 150 countries throughout the globe.
In Canada, only CAA is authorized to issue IDPs. Therefore, if you're looking to get one (which we highly recommend) contact your nearest store and we'll be happy to help.
5. Travel Insurance
Another important document that you must always have with you while travelling both internationally, as well as domestically, is travel insurance.
In fact, under the current circumstances, where travelling has become quite stressful, having travel insurance means having one less thing to worry about when it comes to emergency medical services.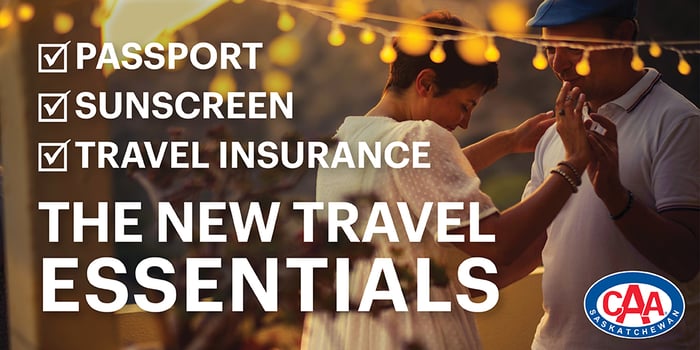 Now you're probably thinking that travel insurance isn't necessary when taking trips within Canada. After all, you do have your government healthcare coverage that covers you inside the country.
However, it's important to realize that your government healthcare provides you with medical coverage inside your home province, and that coverage becomes very limited as soon as you step outside of it.
Therefore, it's always better to be safe than to be sorry and get travel insurance no matter where you travel. It's a must as it can help protect you against unforeseen, unexpected, and substantially costly emergency medical expenses while travelling.
6. Travel Merchandise
Now that we have all the research and documentation handled, it's time to travel smartly and in style.
Did you know that experts believe your vacation can be more enjoyable and far less stressful if you have the right kind of travel merchandise with you?
Think about it, would you enjoy your trip if you were worried about the safety of your things? That's the thing with foreign locations, no matter how prepared you are, you never know what to expect.
It's wise to keep your bases covered and travel safely. Invest in quality travel merchandise that promises to offer you security and protection against theft and other such hazards.
Further, with technology scams on the rise these days, you can also think about purchasing RFIDsafe merchandise that shields your belongings like credit cards and passports from unwanted scans.
The length of your journey is also important. For longer duration flights (9 hours and above) it's always advisable that you travel comfortably and do everything possible to make the time pass smoothly.
Maybe buy a neck pillow, a small slingback, and a portable travel charger, among other such things. What's important is that you must be versatile and always pack according to the type of trip you're taking.
Therefore, from travel backpacks to rolling suitcases to neck pillows to eye masks, equip yourself with the best-in-class travel merchandise before you embark upon your dream travel adventure.
Looking for some must-have travel merch? Check out Shop CAA for some quality products!
7. CAA Rewards and Benefits
One of the advantages of being a CAA member is the savings you get to enjoy on your travel adventures. These savings are so valuable that having a membership pays for itself.
Recommended Reading: Here's How You Can Be a CAA Member for Free
One way for you to enjoy these savings is to get deals and discounts on your hotel stays.
Using your CAA membership, you can enjoy savings even when you're outside of Canada when you stay at CAA-partnered hotels like Best Western, Hilton, Hyatt, Marriot, MGM Resorts, and many others.
Plus, if you check the Digital TourBooks that we mentioned above, you'll also get to see plenty of local hotels that will honour your CAA membership and provide you with discounts as well.
Being a CAA member also allows you to get access to exciting itineraries, engaging experiences, and exclusive values in the form of CAA Vacations.
Therefore, whether it's a family vacation or a fun trip with friends, you can be assured that you'll get the best prices on your trip as well as round-the-clock assistance from our trusted travel consultants.
8. Book Your Travel
Finally, after you've done all your research, planning, preparations, and have sorted out all your travel documents, it's time to book that trip.
Head over to the CAA Travel webpage where you can book everything from flights, hotels, car rentals, cruises, and other travel-related activities. If you're already a member, you can use your discount too.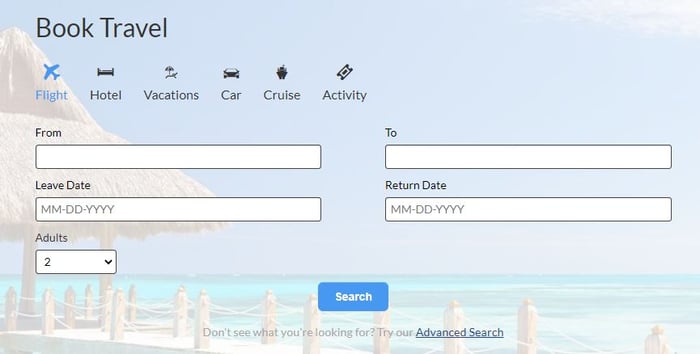 If you prefer not to do all the heavy lifting by yourself, you can also contact one of our certified and trusted travel consultants, who have first-hand experience and knowledge in all regions of the world.
Plus, did you know that since travel consultants have close access to suppliers and travel providers they can make use of those relationships and help you save an average of $452 per trip? That's right.
So, sit back and relax while we do all the hard work for you, and save you money while we're at it.
Travel with someone you trust
What makes travelling fun and adventurous is to be able to enjoy all aspects of it (not just the travelling part) without having to take a lot of stress.
This includes everything from researching to planning to buying merchandise to booking tickets/hotels.
And what better way to do so than a one-stop solution where you can have both the satisfaction of getting the best value and the peace of mind of knowing that you'll be safe and always protected.
Rayelle Hilderman, Travel Marketing at CAA Saskatchewan, believes that CAA Travel offers travellers that exact value. She says, "it's a blessing in disguise to be able to check off so much of your planning list with CAA Travel – a one-stop solution to take care of all your travel needs."
So, start planning today. And remember, when you're ready to travel, travel with someone you trust.