As we head into the winter, many people start dreaming about taking a vacation and enjoying the sights and sounds of warmer climates and destinations.
After all, getting away from the cold is certainly one of the first things on the minds of most people.
If you're one such 'snowbird' who's planning to 'migrate' down south to warmer temperatures this winter, good for you. We wish you a safe journey and hope you have a grand time.
However, if you're planning to stay in Saskatchewan this winter, we're sure you won't be disappointed.
From short one-day road trips to longer excursions or vacations, there's so much to see and do in the winter right here in the place we call home.
So, sit back and enjoy as we throw light on some hidden gems and mesmerizing winter getaways.
1. Grasslands National Park
When it comes to finding hidden gems in Saskatchewan, who better to ask than our experienced Saskatchewanderers – people who have inspired local wanderlust for the past decade.
Andrew Hiltz (Saskatchewanderer, 2017) is a big fan of the Grasslands National Park. "It's pretty well-known, but not many people venture to the east block of the park," says Hiltz.
"It's a relatively new addition and, if you walk about 5 kms southeast from the visitor centre, the lookout is epic; valleys filled with hoodoos, big grassy hills, pastures, and no designated trails."
If you're looking for some quiet and peace, look no further than the Grasslands National Park. It's so quiet and breathtaking, and totally different than anything else you'll find in Saskatchewan.

2. Englefeld
Another thing that the Saskatchewanderers are famous for is taking road trips. They travel by car to showcase the province as the best place to live, work, and play.
Ashlyn George (Saskatchewanderer, 2015) shares her love of roadside attractions found in small towns.
One of her latest discoveries is a Dr. Seuss-like house on the south side of Highway 5 in Englefeld, which she's stopped at in both winter and summer.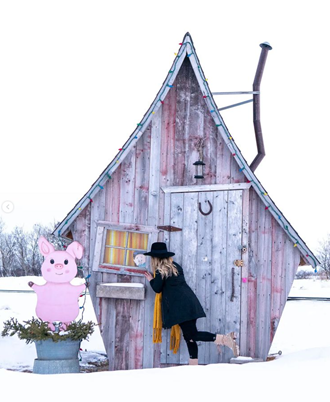 Photo Credit: Ashlyn George, thelostgirlsguide.com
"I always love stopping at this cute little roadside attraction in Englefeld. It's so adorable, cute, and whimsical. It makes for the perfect, Instagram-worthy photo op," says George.
3. Rosthern
While it's no surprise that Saskatchewan is known for hiking and offering breathtaking views, it also offers some uniquely beautiful small towns that can enrich a person's soul.
Leah Mertz (Saskatchewanderer, 2020) fell in love with one such quaint small town that populates the Saskatchewan landscape. "I absolutely love visiting the town of Rosthern," says Mertz.
"You can spend the day walking around or taking in some of the local attractions like the Station Arts Centre – a converted train station that hosts gallery shows, plays, performances, and more."
Rosthern also holds an annual winter festival that offers a variety of activities free of charge. From yoga to cross-country skiing to learning to draw a Chickadee, it's definitely worth attending.
4. Gem Lakes Trail
One of Saskatchewan's most interesting trails, the Gem Lakes Trail in Narrow Hills Provincial Park, is a must-visit for anyone residing in the province seeking a thrilling experience.
Kevin Dunn (Saskatchewanderer, 2018), who believes that backcountry camping in Saskatchewan is unlike any other form of camping, has nothing but great things to say about the view it has to offer.
"The Gem Lakes Trail in Narrow Hills Provincial Park is my absolute favourite," says Dunn.
"Calm lakes and the beautiful landscape, featuring some of the bluest and clearest waters, are definitely worth the hike in. It has a million-dollar view looking out towards Lac des Îles."
5. Outdoor skating rinks
If you're an ice-skating enthusiast, Saskatchewan also has a handful of free outdoor skating rinks spread out across the province that offers a great getaway for you and the family.
6. Other

Winter Activities
For fun in the snow on your winter vacation, try hiking, snowshoeing, tobogganing, snowboarding, snow-tubing, downhill skiing, and even night sky viewing.
According to Tourism Saskatchewan, there are several destinations that offer lots of winter family-friendly activities including:



Plan Ahead with CAA Saskatchewan
Winter in Saskatchewan can be tricky, but planning well in advance and knowing what to pack will help keep everyone comfortable, warm, and safe during your family road trips.
Check out our road trip information to make sure your vehicle is winter-ready.
You can also connect with your local CAA Travel Consultant for road maps and other important information on local lodgings and accommodations.
If you're not a CAA member already, consider purchasing a CAA membership to ensure that you'll always have the peace of mind you deserve during your winter getaways.
Your membership will provide you with dependable and uninterrupted roadside assistance in case your vehicle runs into any issues.
Lastly, before heading out, always check the Tourism Saskatchewan, Saskatchewan Provincial Parks, and Parks Canada websites for details on passes, getaways, and more.

Please follow all the current provincial health guidelines that will help keep everyone safe. It's also a good idea to respect the places that you visit, the people who live there, and the local wildlife too.

Safe travels!