Many of us usually escape the bitterly cold Saskatchewan winters by travelling somewhere warm and soaking up some sunshine on a warm beach. With travelling restrictions in place this year, this may not be possible. But don't despair.
You can still "get away" this winter by enjoying the great outdoors of Saskatchewan. Keeping warm is easy just by moving your body and being active. It's a great way for family and friends to get together safely, create memories, and stay healthy. Regular physical activity helps improve mental health as well as your physical wellbeing as stated by the Canadian Mental Health Association and ParicipACTION Canada.
Whether it's a day trip or an overnight vacation you're seeking, we have some fun, kid friendly activities and destinations right here in our own Saskatchewan backyard. Before we dive into where we can go, let's prepare for the trip first.
What to wear to stay warm
Staying warm and comfortable in the winter is going to help ensure you fully enjoy your getaway. Layers and natural fabrics are your friends in all outdoor activities.
Base layer – A base layer is made to keep you dry. You'll get sweaty no matter how cold it is outside. Wool is an amazing insulator that helps keep the heat in while keeping you cool and dry at the same time by wicking away the sweat. Artificial fabrics work well too. Avoid cotton as it will hold moisture in the fabric and can make you colder. Good quality thermal wear is a
good investment that can be enjoyed for years to come.
Mid layer –
Over your thermal wear, the middle layer is meant to keep you warm. The best
fabric for this is fleece. This fabric helps trap in the heat and is lightweight and breathable. It's also not too bulky, so you'll maintain great range of motion.
Outer layer – The outer layer is exposed to the outdoor
elements, so it's important that they are waterproof and windproof. Saskatchewan is notorious for having high wind chills and that snow can melt quickly on a sunny slushy day - so stay warm and dry by wearing a windproof and waterproof outer layer.
Accessories – Don't forget the winter accessories like warm waterproof mittens, toques, and insolated boots to keep the heat in and moisture out. Plan ahead. Pack extra accessories in case they do get wet from playing in the snow.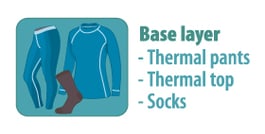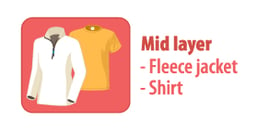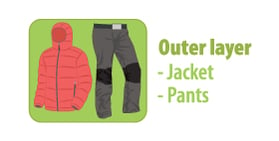 CAA members can earn CAA Dollars® and save when buying these winter essentials at our stores and at our CAA Rewards® partners including Roots, Altitude Sports, SAIL, The Last Hunt, PRFO Sports, Carter's OshKosh B'gosh, and more. Have your membership pay for itself!

Family winter activities
Now that you're fully prepared to comfortably enjoy the great outdoors, where can you go in Saskatchewan? What can you do? We have you covered with some hidden gems to explore and some activities you can enjoy close to home.
CAA Members save on Saskatchewan Provincial Park and National Park passes when purchased at your local CAA Store.
Snowshoeing -
You can rent snowshoes at many of our National and Provincial Parks. At some locations, snowshoes are free with your park admission. Some local leisure centers and outfitters also rent snowshoes. You may have to call ahead and make arrangements.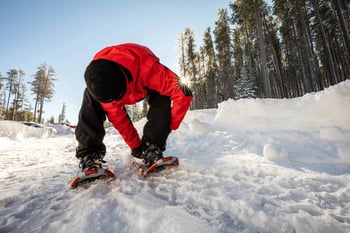 Cypress Hills Interprovincial Park. Photo credit: Tourism Saskatchewan
Skiing and snowboarding –
Did you know you can
go cross-country skiing
, snowboarding and down-hill skiing right here in Saskatchewan? Here are the top five ski destinations in Saskatchewan.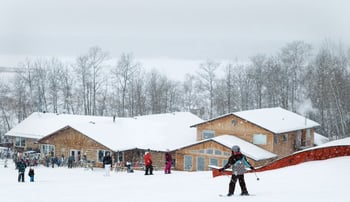 Wapiti Ski & Board Resort. Photo credit: Tourism Saskatchewan/Rob Weitzel Graphic Productions
Sledding/tobogganing -
This is a fun winter activity that doesn't require too much planning or equipment. You can go to a local park or if you'd like to venture out a little further from home,
these locations
have warm up shacks and great tobogganing hills.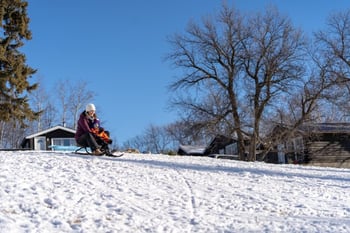 Moose Mountain Provincial Park. Photo credit: Tourism Saskatchewan
Skating and playing hockey –
Lacing up your skates and taking the family to a local rink or lake is an easy and affordable way to stay active together in the winter. There are also indoor rinks that you can contact and book your time to enjoy a family skate. Looking to take a road trip? We have some destination
skating rinks
as well. Remember to check local weather and road advisories and never skate on thin ice.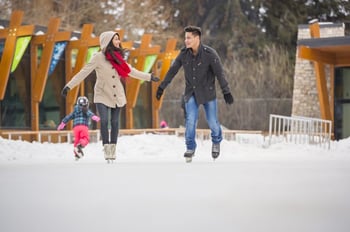 Cameco Meewasin Skating Rink, Nutrien Plaza, Saskatoon. Photo credit: Tourism Saskatchewan Chris Hendrickson Photography
Ice fishing –
Ice fishing requires a little more gear than fishing in the summer, but it's another good way to get outside and enjoy the fresh air. Get your fishing gear at some of our
CAA Rewards partners
. Remember to get your fishing license before you head out!
Check here
for more Saskatchewan fishing information.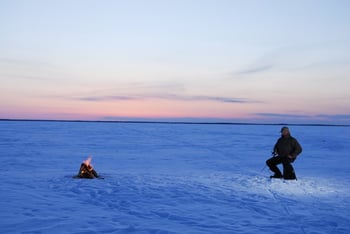 Tobin Lake. Photo credit: Tourism Saskatchewan/Calvin Fehr
Hiking –
You don't need to travel far to go on a winter wonderland adventure. Dress the family up in layers and head to a local park or take a hike around the neighbourhood. If you're looking for something further away, you can venture to some of
Saskatchewan's hiking trails
.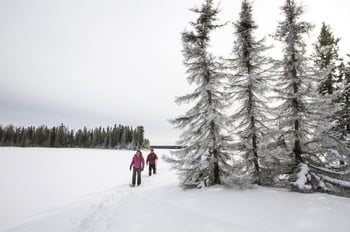 Prince Albert National Park.

Photo credit:

Tourism Saskatchewan/Eric Lindberg
Now you just need to decide if you'd like to go on a day trip or make it a fun family road trip and stay longer.
Overnight accommodations
are available at or very close to all the locations mentioned. Either way you're bound to have fun and make new memories.
CAA Family Safety Booklet
We've got some great safety tips and fun activities for the whole family in our CAA Family Safety Booklet. Pick up a free copy at any of our CAA Stores or download your copy today.