This year, families have had to readjust and learn to do things a little differently. Work and school schedules have changed, with people travelling less and staying at home more. With the holiday season approaching, ideas are circulating about how to deck the halls, while keeping safe and having peace of mind. This year, many of us have learned to be practical and to use our common sense. These same characteristics will come in handy when planning the holiday celebrations. By focusing on the safety of family and friends, peace of mind can still be enjoyed while making new merry memories.


For those of us staying home for the holidays, here are five things we need to know:

1. Artificial Christmas tree are lovely, and so are live trees which many prefer for their fresh fragrance, but remember, they must be kept fresh and moist. Which ever one you choose to decorate in your home, please make sure the trees are "fire resistant" and with safety in mind, always position them away from fireplaces, heaters, and other heat sources. If artificial trees are on your holiday list check out the selection at Rona.

2. Outdoor and indoor lights help to set the holiday mood and keep things merry and bright. Before using your holiday lights, look them over to check for broken, frayed or loose connections. Best not to use damaged sets. Before going to bed, or leaving home, turn off all holiday lights. Consider using electric timers, available at The Source.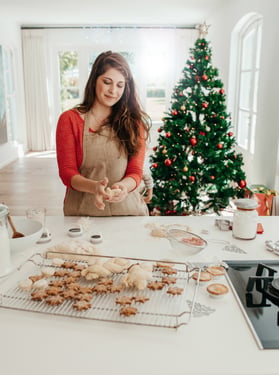 3. The holiday season certainly lights up with festive, fragrant candles. But please make sure they are placed in non-combustible containers and never leave burning candles unattended. For ideas on what candles are best for your festive decor, check out Indigo.

4. 'Tis the season for holiday baking and cooking which certainly stir up family memories and traditions. Stokes has a great variety of baking sheets, kitchen accessories, and more. Remember, never leave cooking or baking unattended.

5. It's important to have properly installed smoke and carbon monoxide alarms in working condition placed in our homes. Perhaps have the chimney and furnace professionally cleaned and inspected too.