According to a survey done recently, over 40% of pet parents look at their cat or dog as a 'starter child'. This surely means that bringing home a new pet is going to be one of the happiest days of your life.
Now while this promises to be an extremely exciting move, it can also get overwhelming very quickly.
This is because that same survey states that pet owners can expect to have an average of 231 mini panic attacks about their pet's health and safety each year. That's a lot of tension and anxiety.
There is a lot that first-time pet owners need to know, and we are happy to be sharing some tips from a few top experts that can help you be that perfect pet parent.
Starting with, 7 things to keep in mind when you first bring your pet home.
1. Pet-proof your home
Before bringing a pet home, it's important that you remove any unsafe items from their living space.
According to Dr. Karen Sheehan, a clinical associate at the Western College of Veterinary Medicine, University of Saskatchewan, there are many normal household items that can be toxic to animals.
"Things like chocolate, grapes/raisins, compost, cannabis, rodenticides, and some flowers are not safe. One of the most common plant toxicities is lily ingestion in cats— even the water in a lily vase can be toxic," Sheehan says.
It may also take time for your pet to become accustomed to his or her new home.
It's been known that puppies may find a spot to observe the household for a week or two before coming out of their shell. You can restrict your pet's activity to one room to better help with their transition.
Some pets could also develop anxiety, which can manifest itself in many ways, including poor appetite, an upset tummy, lethargy, hiding and cowering, crying, lack of eye contact, and a stiff posture.
But things do get better with time and patience can be a great asset to have for new pet parents.
"Some level of nervousness is normal, and an animal may need a quiet place to adjust for the first 24 hours," says Ottawa Valley dog whisperer Karen Rosenfeld, a holistic dog behaviourist.
2. Have some essential pet items ready
Here are a few essential items that you must have ready for your new pet for him/her to be comfortable in those initial few days and weeks.
For dogs:
A crate that's large enough for the dog to sit, stand, lie down, and turn comfortably.

A comfortable bed.

An exercise pen or baby gates to restrict their movement.

A non-retractable leash to keep them in check in case you take them out.

A collar or harness that has a tag with your contact information on it.

Food and water bowls.

Some wet and dry food, plus plenty of treats.

Extra pee pads and towels for potential accidents.

Some waste bags to properly get rid of their waste.

A few toys that will help keep your dog/puppy engaged in those first few days.

A dog brush and/or comb.

Nail clippers.
For cats:
A litter box, some litter, and a scoop.

Food and water bowls.

Some wet and dry food, plus plenty of treats.

Toys that are interactive and independent to keep your cat engaged.

A scratching pillar.

A hardcover carrier to allow you to carry him/her with ease.

A bed.

A cat brush and/or comb.

Nail clippers.
3. Work on their socializing
When you bring home a new pet, it's important that you help them acclimatize to the people, animals, places, and things they'll regularly interact with.
However, pet parents must remember that young puppies, kittens, and new adoptees that haven't had their full vaccinations should socialize only with healthy pets whose shots are up to date.
Creating a positive experience for your pets is also quite crucial when it comes to mental development.
"The use of food, praise, and toys are invaluable for assuring a positive experience. The socialization window for puppies is from three to 12 weeks, and three to nine weeks for kittens," says Sheehan.
4. Work on their training
When it comes to training your pets, it's good practice to always start with the basics.
Dogs will need to learn where they'll sleep, what their feeding routine will be, and the toys they are allowed to chew and wrestle with.
"The use of positive reinforcement is paramount to success," Sheehan notes.
To house-train your puppy, take them outside to the same spot or for a walk when they wake up and every few hours after that. After they relieve themselves, praise them and reward them with a treat.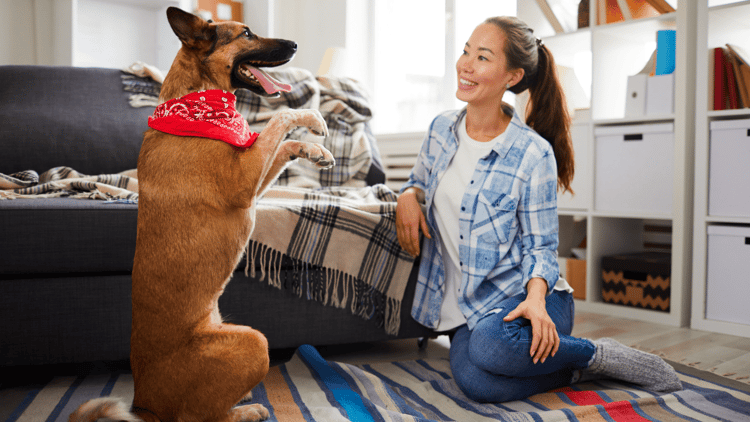 The next steps are helping a dog learn to walk safely on a leash and how to meet new people and other dogs politely when they're outside or at the vet or groomer.
A new cat should be shown where its litter box is, where its food and water will be, and where its safe sleeping spots and scratching posts are.
If you're looking for reliable pet trainers and pet classes in your neighbourhood, you can either try checking with other pet owners or your veterinarian, who are usually great resources.
5. Finding a good veterinarian
Finding a good veterinarian is probably the most important task that new pet parents must accomplish.
After all, the health and safety of your dog or cat are of the utmost importance, and visits to the vet will be something that ideally you would not want to rethink again and again.
As a starting point in finding a good veterinarian, try asking your neighbours, friends, and relatives about who their veterinarian is and why they chose them.
Another thing that might also help you decide is veterinary designations or certifications.
For example, veterinary staff who are "Fear Free" certified have been trained in easing fear, anxiety, and stress in pets. This is a great way to choose a good vet who can improve the overall well-being of pets.
Once you decide on a veterinarian, it's important that your new pet sees them within the first week.
At this first visit, the veterinarian can assess your pet's overall health, including looking for congenital problems, dental health, and palpating the abdomen.
You may be asked to take a fecal sample to the first appointment so that it can be checked for parasites. Puppies and kittens are routinely dewormed every two weeks until 12 weeks of age.
Puppies should also receive monthly parasite prevention thereafter. All pet dogs and cats in Canada are required to be vaccinated against rabies.
Both dogs and cats require additional immunization to protect them and depending on lifestyle and exposure, there may be other necessary vaccinations to speak with your vet about.
A pet's lifestyle, age, and activities will determine how often they should see the veterinarian, with healthy pets visiting once or twice annually.
6. Seek out a dog park
This point is specifically directed toward dog owners. Once your dog is up to date on his/her vaccines, consider taking your new pooch to a designated leash-free space for some fun and exercise.
According to Vanessa Powell, co-founder and chairperson of the Off Leash East Hants Dog Park in Elmsdale, Nova Scotia, doing so is a great way to ensure your dog is healthy and mentally stimulated.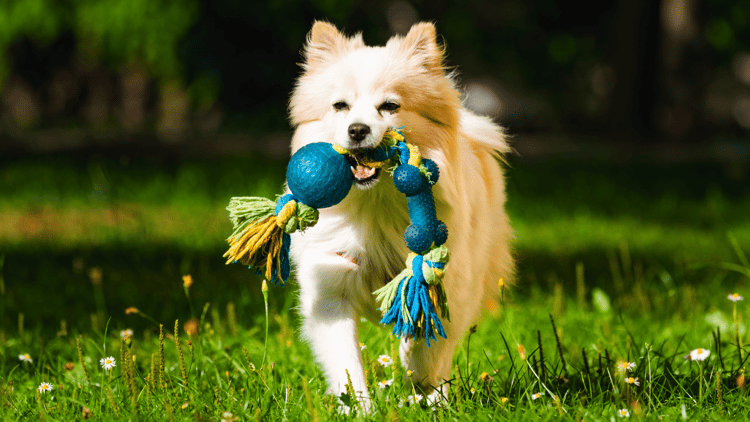 "It allows them to run around in an enclosed environment, play with other dogs, and generally do what dogs are meant to do," she says. "Dogs who have adequate amounts of off-leash physical and mental exercise display fewer troublesome behaviours and are calmer."
However, before you venture out, be sure to check your local dog park for specific rules.
General etiquette includes always being in control of your dog, cleaning up after him or her, and immediately removing your pet if they display any sort of aggressive behaviour.
7. Consider Pet Insurance
Pets can suffer from many of the same injuries and medical conditions that afflict their human owners, including glaucoma, heart disease, diabetes, and broken bones.
While some conditions can be treated with a proper treatment plan designed by a qualified veterinarian, there might be instances where that is not possible.
Instances like emergencies, injuries, and other critical or severe illnesses can happen without any warning and are not easy to predict or plan for.
One way to help you prepare for the unexpected is to consider purchasing a pet insurance policy for your cat or dog. Doing so can give you some well-deserved peace of mind when it comes to handling expensive medical procedures.
With today's advanced procedures, like ultrasounds, MRI, endoscopy, and hip replacements being commonplace in veterinary medicine, pet insurance is a great tool to help you manage costs.
But pet insurance can do more than just alleviate the cost of emergencies or expensive procedures that your cat or dog may require. It can also ease stress during an emotional time if your pet is ill or has had a serious accident.
As Dr. Sheehan says: "It can be lifesaving, but like any other insurance, the owner needs to understand the benefits and limitations of their policy."
Learn more about Pet Insurance and how to manage those unexpected costs!
Tips for travelling with your pet
Once your new pet has settled into his/her new home and is in sync with their daily routine, there will be times when you'd like to take them with you on your travel adventures.
However, whether it's a short road trip or a longer vacation, travelling with the family pet isn't as easy as throwing a leash, a couple of bowls, and a big bag of kibbles into the trunk.
While it can surely be a fun and rewarding experience, it also requires planning and preparation to ensure that both you and your furry friend have a safe and comfortable journey.
Here are 8 tips to help you get started and travel safely with your pet:
1. Pack thoughtfully
Depending on travel restrictions, if you plan to cross the Canada-U.S. border by car, remember to bring your pet's medical records and medication, including a valid rabies vaccination certificate.
For the drive itself, bring a first-aid kit, food, bowls, and a familiar pillow or blanket that'll help keep your pet comfortable and rid them of any anxiety that they might experience.
Dogs will also require a leash and poop bags, while cats need litter, a box, and a scoop. Toys should be limited to one or two.
2. Have the proper identification
Just like their owners, it's important that pets travel with proper (and valid) identification documents.
Outfit your pet with a flat collar and a tag imprinted with your home address, as well as a temporary travel tag with your cellphone and destination phone number on it.
In addition to that, it doesn't hurt to carry a physical and digital copy of your pet's license as well.
3. Protect your vehicle
For those of you who would like to frequently hit the road with your pets, it's worth investing in rubberized floor liners and waterproof seat covers.
For some of those long distances, in case your pet is still in the process of being trained, they could have accidents that could spoil the car and/or ruin your seat covers.
4. Crate your pet
Your pet might be your sidekick and a member of your family, but they should never ride shotgun.
Cats and dogs should be secured inside a well-ventilated crate or carrier in the back seat, and whether you choose a wire, plastic, or soft-sided carrier, be sure to:
Secure the carrier to the inside of the vehicle so it doesn't move if you suddenly hit the brakes.

Ensure it's the right size. Your pet should be able to lie down, sit, and stand up in it.
5. Build up to the big day
In the days leading up to your travel day, encourage your pet to spend as much time as possible in and around the crate so that they consider it a safe spot and are not anxious while in it.
Puppies and kittens should be exposed to the car using small experiential steps as part of a training program. You could try taking them for short car rides around the block before the big day arrives.
Keep increasing the distance gradually until everyone is comfortable being in the car.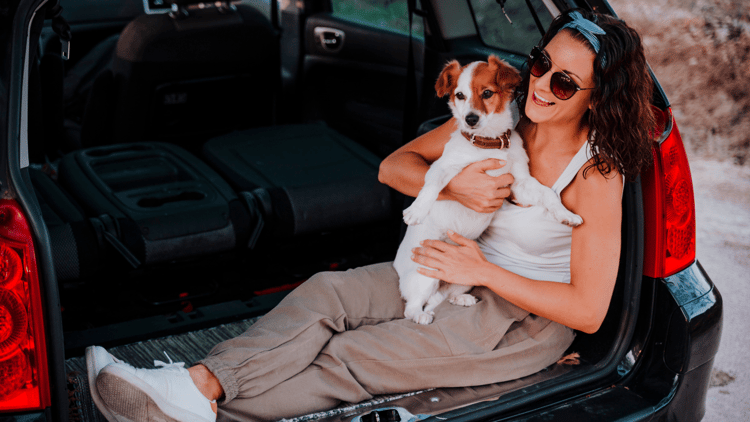 Another thing that helps with pets getting used to cars is for you to play with your pet in the back seat of a parked car. After a few successful stress-free sessions, do the same with the car engine running.
It's important to note that you must not feed your pet in a moving vehicle— except for treats, which can be used for positive reinforcement. You must also be prepared to stop frequently for washroom breaks.
Whenever you get out of your car, always keep your pets leashed and never let them get out of sight.
And lastly, bring lots of water and pour some into a bowl for your pets to drink whenever you stop. You could also think about buying a handy water bottle with an easy-to-drink slot for them.
6. Create a comfortable interior temperature
When travelling with your pets, ensure that the temperature in the car is comfortable for them.
Most cats are familiar with room temperature, which is 22 degrees Celsius. On cold days, warm the car up before placing your pet inside the car. And on hot days, cool the car down.
For dogs, since they have extra fur, keep checking them to see if they're feeling okay and are not panting too much. If they are, it would be advisable to take a break and allow them to decompress.
7. Never leave pets unattended in the car
The Saskatchewan Animal Protection Act authorizes peace officers and animal welfare inspectors to enter a vehicle, home, or property to relieve animals in critical distress.
For example, if a dog is left outside with no doghouse, but the forecast calls for –30 degrees Celsius, the animal may be removed from the premises and taken to a warm shelter.
In winter, vehicles can also quickly become freezing. On hot days, heat stroke is a real risk for pets with a potentially fatal outcome.
When the outside temperature is 30 degrees Celsius, car temperatures can increase 10 degrees Celsius in just 10 minutes. Therefore, never under any circumstances, leave your pet unattended in your car.
8. Consider leaving your pet at home
And lastly, one of the best ways for you to ensure the safety of your pet while you're travelling is to consider leaving them with family, a certified pet sitter, or someone you trust can take care of them.
Your pet may enjoy weekend trips to the cabin, but if they will just be sitting in a hotel all day while you explore museums where they're not welcome, it might not be the best idea to bring them along.
Leaving them with a sitter or people who have other pets could instead be a fun experience for them as they would get ample exercise and be mentally stimulated during their entire stay.

*The information herein is summarized. All Pet Insurance plans have limitations and exclusions. Specific products, features, coverage limits, rates, and discounts may vary by province, eligibility, and are subject to change. For all terms and conditions visit: https://www.petsplusus.com/service-claims/brochures-guides
© 2023 All rights reserved. Pets Plus Us Pet Insurance policies are underwritten by Northbridge General Insurance Corporation, distributed by PTZ Insurance Services Ltd. & Société d'Assurances Collectives (Sodaco) Inc. in Quebec. Pets Plus Us Pet Insurance is available in all provinces and territories.