Taking a vacation is great. In fact, it's one of the best ways to have a healthy lifestyle.
According to a Forbes article, a vacation is essential to employee survival because it helps you rejuvenate your heart and helps improve your productivity and work performance.
Another article from the Harvard Business Review says, "those who take more than 10 days of vacation are 30% more likely to receive a raise and have greater job satisfaction." Now that's a win-win, right?
But even if you take the work side of things out, taking a vacation is very cool. It helps you make memories, bond with friends and family, and do wonders for your mental health.
Now the conventional type of vacation is one where you book your flights and accommodation, head over to a destination, eat out, roam around, and pay as you go. The more you eat, the more you pay.
Another type that's becoming quite popular these days is an all-inclusive vacation.
What is an all-inclusive vacation?
An all-inclusive vacation is a vacation where all essential services like flights, accommodation, hotel transfers, meals, and drinks are included in the booking price.
This means that once you've paid for a vacation, you can sit back and relax knowing that everything is taken care of. No matter how much you eat, everything is already paid for.
While there might be some exceptions related to high-end restaurants and/or certain drinks, in general, it's a great way to have the peace of mind of knowing that you won't be hit by any new expenses.
What activities does an all-inclusive vacation include?
Depending on the resort you're going to, all-inclusive means the inclusion of entertainment and other activities like swimming pools, fitness centers, and sports like volleyball, tennis, ping pong, etc.
You can also access the beach (if present) and any other facilities on the property.
Most resorts also have their staff down at the beach and offer kayaking, snorkeling, and a few other water sports that are included in your costs.
In addition to activities on the property itself, many resorts offer daily entertainment in the form of dancing, live music, stand-up comedians, and local artists.
You can choose to either fill your days with adventure or just laze around on the beach or at the pool. That's one of the great things about all-inclusive – they're inclusive of everyone's needs/wants.
Looking to book your dream vacation? We've got you covered.
What are the different types of all-inclusive resorts?
There are five main types of all-inclusive resorts. Here is a quick snapshot of them:
1. Beach Resorts
If your idea of a vacation is to lie on a beach with a good book and a cool beverage, and not worry at all about your meals, then an all-inclusive beach resort is what you're looking for.
Found mostly in Mexico and the Caribbean, these resorts generally have exclusive access to a beach where you can laze around.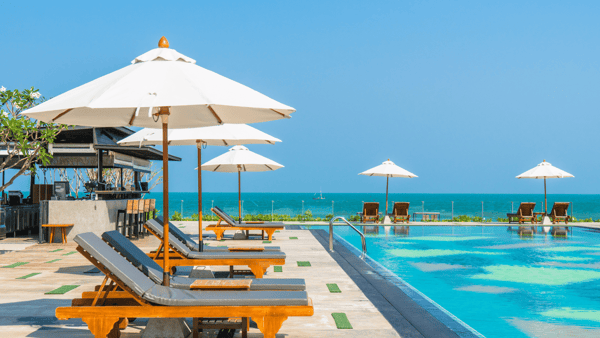 The all-inclusive aspect allows you to enjoy unlimited meals and drinks at their restaurants, take dips in their swimming pools, and enjoy some fun sports and ocean activities with your kids.
Plus, listening to the serene sound of the waves from your ocean view room is always a great thing.
2. Adults-Only Resorts
If you prefer a quieter destination that is more slow-paced and importantly kids-free, then an adults-only resort is your thing.
As the name suggests, adults-only resorts only allow adults over the age of 18 years and are more suited for couples looking to spend some quality time away from their extended families.
In fact, most of the activities present in such resorts are also specifically catered to adults. Things like swim-up suites, cigar clubs, deep sea fishing, tequila tastings, SPAs, and authentic gourmet meals.
3. City Escape Resorts
Let's face it. There could be times when you're on an all-inclusive vacation but deep down inside the travel fanatic in you is longing to get out of your hotel property and soak in the local culture.
After all, no resort in the world has enough restaurants and shops to truly provide you with a taste of the authentic local culture.
In such instances, it's best for you to vacation at city escape resorts, which are usually located on the cusp of cities where you can mingle with people who are not tourists and experience local shopping.
4. Nature & History Resorts
Sometimes taking a vacation is more than just relaxing. Some of you might want to do more than just stay in your hotels and laze around. If you're one of those, then a nature and history resort is for you.
Usually located next to archeological features, nature and history resorts can help you expand your mind by allowing you to experience activities like walking trails, boat tours, wildlife, and more.
Mexico is a great place to take exotic vacations as there are plenty of forests and nature trails there.
5. Family Resorts
And finally, we have the family getaway resorts where your whole family can have a grand time.
From kids enjoying in the pool to couples lying on the beach (or maybe it's the other way around), there's always something for everyone to experience in an all-inclusive family resort.
Which all-inclusive resorts are the best?
Any of the RIU, Iberostar, or AMResorts properties are always a good choice to vacation at.
CAA's trusted travel consultants have also had really good experiences both themselves as well as with customers at the Royalton properties too.
The RIU properties always have so many options for every guest that stays there. They are on the larger side but that just means more availability for rooms, restaurants, and activities.
What is the best time to go on an all-inclusive vacation?
Since all-inclusive resorts are always busier with families travelling during the holidays, they're usually less crowded during the off-season or whenever schools are not on a break.
They would also be cheaper to travel to at the beginning of the winter months -- November and the beginning of December.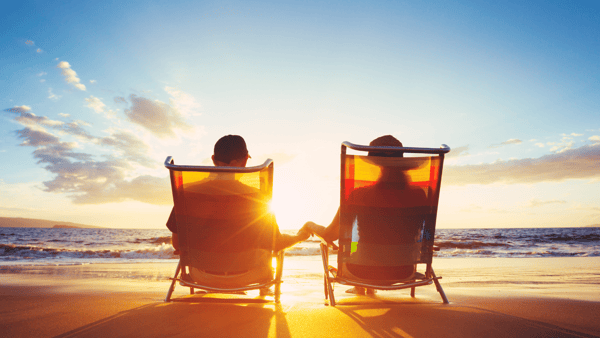 The winter months are the most-busy time that people book all-inclusive vacations because they want to escape the cold, long Saskatchewan weather. People travel the most to these resorts in January and February.
The time around Christmas is also busy as the school break allows for families to travel with their children. As soon as you start hitting those school breaks, the prices always increase.
For how long should you go on an all-inclusive vacation?
The ideal time to spend on an all-inclusive vacation is a week.
However, many people may prefer a longer stay that's in the range of 10-14-days. This allows them to not worry about their travel days while still having plenty of time to enjoy their destination.
Book your all-inclusive vacation with CAA
Now that you have all the information, it's time to pamper yourself and book an all-inclusive vacation.
Whether it's Mexico, the Caribbean, the United States, or right here at home, contact one of our trusted and certified travel consultants today and be assured of booking the best all-inclusive experience.
Plus, if you're a CAA member, you're also entitled to some extra benefits.
For starters, you'll be getting a discount on the service fee for booking flights, enjoy exclusive savings on hotel bookings, and be assured that we'll work our tails off to get you the best possible prices.
Your CAA membership also allows you to SAVE 10% on your Travel Insurance premium, which is highly recommended in today's world to cover yourself in the case of any unforeseen circumstances.
And finally, the biggest benefit of booking through CAA is peace of mind.
We at CAA want you to get the best out of your all-inclusive experience. Therefore, in case you run into any emergency, be assured knowing that we're just a call away.
Whether it's assistance related to flight changes/cancellations, help with your lost luggage, changes in accommodation, or replacement of lost tickets/ documents, you can trust us to always go above and beyond in keeping you safe and eliminating your worries.
So, give us a call today and start planning that perfect vacation.