The Canadian housing market is booming.
In fact, according to a Financial Post report, it's even hotter that the U.S. housing market right now. In March 2021, home sales in Canada went up a staggering 75% when compared to 2019.
If you're about to be a homeowner, especially a new one, buying your dream home can be stressful. From choosing a mortgage broker to picking paint colours, the to-do list promises to be enormous.
The items on that list might differ from person to person. However, if there's one thing all prospective buyers must do before closing on their perfect property, it's to buy home insurance.
Adding home insurance is a crucial step in the purchasing process and we understand that you might have some questions. Which is why we put Lori Madsen, General Manager of Insurance Operations with CAA Saskatchewan, in the hot seat.
Read on as she answers some common questions asked by new homeowners.
Why should I get home insurance right away?
The simplest answer to this question is 'protection'. Quite simply, as a homeowner, you would want to protect your purchase.
Further, in order to obtain a mortgage, your lender will require you have home insurance to ensure coverage to repair or replace the home in the event of a loss.
Your lender would also want to protect its investment in the property, along with your interest, since you're both owners of it until the mortgage is paid off.
What do I need to get a quote?
Your home insurance quote is determined based on your home's unique details. Therefore, the more details you provide, the better your quote would be.
You'll need to know things like square footage, the year the home was built in, any updates or renovations you've done— things like roofing, plumbing, heating—the type of flooring, and any special features like a pool.
Are there "must-have" coverages I should get?
One important coverage is 'replacement cost guarantee' that ensures your home will be rebuilt or replaced if your insurance policy limits aren't adequate.
This could happen if the inflationary increases aren't enough or if there was an error in calculation.
You also want to make sure that there is enough to cover all your belongings. CAA Insurance offers complimentary property checklists to help make a record of your personal belongings.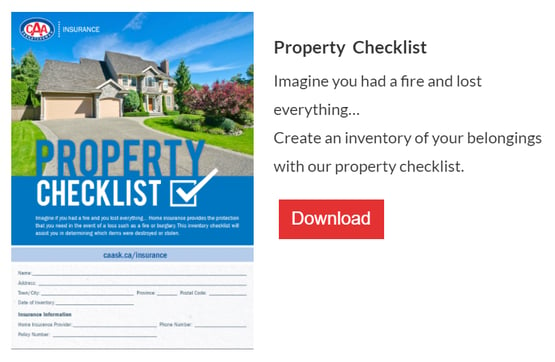 Another important coverage is 'overland water protection', which covers your property if fresh ground water enters it due to excessive rain, overflowing rivers, or spring runoff.
You'll also want to make sure you have 'liability coverage' for damages caused to others due to your negligence.
What are some optional insurance coverages?
You can purchase riders or endorsements to cover items that are limited or excluded on your insurance policy, including jewellery, bicycles, collectables, art, furs, business property, and cameras.
There's also the 'claim forgiveness endorsement' that benefits those who have made no insurance claims in the last five years.
Under this coverage, you can be assured that when you do make your first claim and pay the deductible, your insurance eligibility during renewal the next year will not be impacted and your claims-free discount will not be removed.
Another good option is the 'home equipment breakdown' coverage that protects you against costly home equipment repairs.
You can choose this benefit and protect your important home systems like furnaces, air conditioners, televisions, refrigerators, and freezers from losses suffered due to mechanical, electrical, and pressure systems breakdown.
Learn more about the additional coverage options by visiting the CAA Home Insurance webpage.
Can I lower my premium, even as a first-time buyer?
Yes! You can enjoy 10% extra savings on your home insurance policy by bundling it with auto insurance.
CAA Members also receive an exclusive 10% discount on their home insurance policy. Plus, if your house has a monitored security system, your rate can be further reduced as well.
Some carriers offer a first-time homebuyer discount too. So, as a first-time buyer you can save a lot.
I'm buying a condo. Do I need homeowner's insurance?
Yes, it is highly recommended.
Your condo corporation's insurance, which is paid through your condo fees, only covers the building and the common areas. It does not cover your personal belongings, liability, and any improvements that you've made to your condo.
For your condo, you're responsible for purchasing an individual condo policy to cover your belongings.
With CAA's Condo Insurance, you can protect your belongings against loss from fire, theft, wind, vandalism, and other unexpected events.