In 2017, a Global News article mentioned that one in five Canadian couples choose to have their weddings abroad. The article also said that the number climbs as high as 40% for millennial couples.
And even though the world has been through a pandemic since then, which saw many travel restrictions come into play, destination weddings have become increasingly popular over the past few years.
Planning a destination wedding can be both exciting and challenging. After all, it's a chance to combine a vacation, a wedding, and a get-together with friends and family into one event.
It's also a chance to celebrate your love in a unique and beautiful location. However, it can get very overwhelming. It requires careful planning and preparation to ensure everything goes smoothly.
But don't worry. We've got you. Here are 9 tips to help you plan that perfect destination wedding.
1. Determine your budget
It's important to have a clear understanding of your budget before you start planning. This will help you make informed decisions about the location, venue, vendors, and other elements of your wedding.
The average cost of a destination wedding varies greatly based on various factors such as location, number of guests, time of year, and the level of luxury and customization you desire.
According to Brides.com, the average cost is somewhere around the $35,000 mark. However, it's important to keep in mind that these are estimates and the actual cost could be different from that.
2. Choose a location
When choosing a location for your destination wedding, it's important to consider a few key factors.
Firstly, think about the logistics of getting there and how easy it is for your guests to travel. Travelling from Canada to a place like Mexico would be easier as compared to someplace in the Caribbean.
Secondly, consider the type of scenery and setting you want for your big day. Depending on your preferences, options can range from a beach to a mountain to a cityscape.
And finally, think about the type of atmosphere you want to create for yourself and your guests – whether it's a relaxing, laid-back vibe or a more upscale, elegant feel.
With all these factors in mind, you'll be able to choose the perfect location for your destination wedding. Some of the most popular destinations include Hawaii, the Caribbean, Mexico, and Florida.
3. Research wedding venues
Once you've chosen your location, it's time to start researching potential venues to get married at.
When researching destination wedding venues, it's important to start early and make a list of what you're looking for. You might want to consider things like size, style, location, and budget.
Look at photos and reviews to get a feel for the atmosphere and vibe of each venue. Also, it's important to consider factors like accessibility, capacity, and other amenities.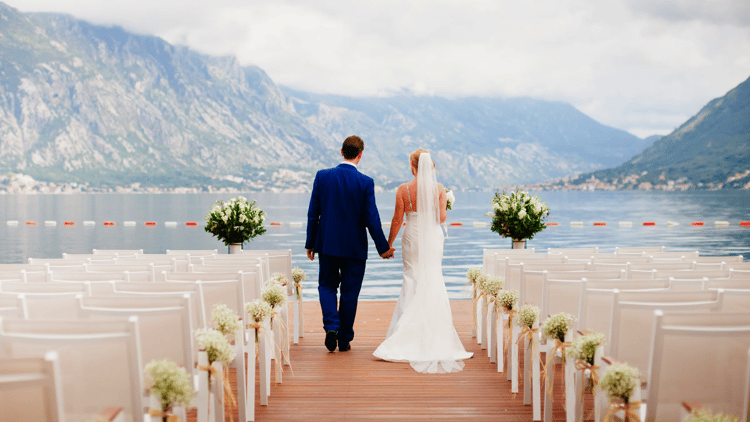 Another good way to decide is to read reviews from other couples or friends who have walked that same route before to get an idea of their experiences and to see if the venue fits your vision.
Lastly, you can also try reaching out to the venue and asking any questions you may have. With a little bit of research and planning, you'll be able to find the perfect wedding venue that fits all your needs.
4. Make your bookings early
Destination weddings are becoming increasingly popular, so it's important to book your venue and vendors as early as possible. This will help ensure that you get the dates you want well in time.
Most destination weddings involve guests arriving a few days before the wedding and staying until a few days after, which allows for plenty of time to relax and enjoy the destination.
Plus, you also get time to participate in pre-wedding activities like rehearsal dinners or a welcome party.
A typical length of stay for a destination wedding could be anywhere from 3 to 7 days, but ultimately the decision is up to the couple and their guests.
5. Be mindful of your guests
The average guest count for a destination wedding is somewhere between 50-60 guests and one of the most-asked questions is who pays for their flights and accommodations.
Well, just like any other wedding, it's the guests who pay for their flights and accommodation. So, destination weddings can turn out to be more expensive for your guests than a usual wedding.
Therefore, it's important to be mindful of their needs and try to make it as easy and affordable as possible for them to attend.
You can try offering them travel and accommodation options and consider holding the ceremony and reception at the same location to minimize their travel costs.
6. Plan for the weather
It's important to research the weather conditions at your chosen destination and plan accordingly.
For example, it might not be a good idea to plan a beach wedding in Hawaii between October and April as that's the time when it gets some heavy rainfall each year.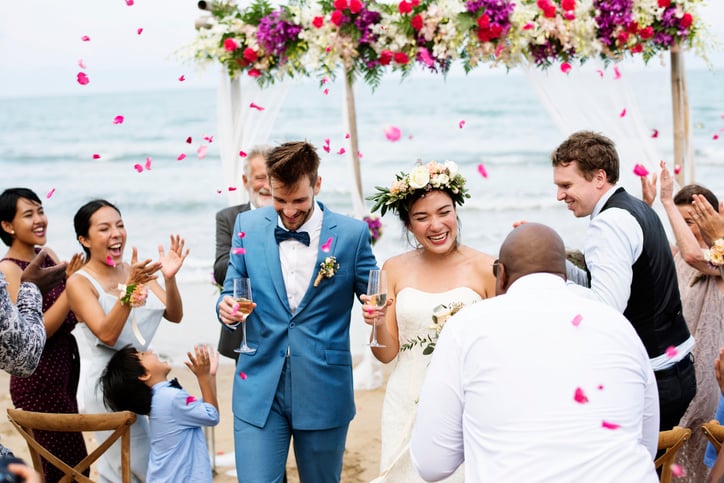 However, you could have one of those days when the weather is absolutely beautiful. So, pick that date.
Always consider the possibility of rain, high winds, or extreme heat, and have a backup plan in place to ensure that your wedding goes ahead no matter how the weather is.
Be prepared with options for indoor or covered outdoor spaces. It's also a good idea to communicate with your guests beforehand so they can pack accordingly.
7. Take care of legal requirements
Before you finalize your destination wedding location and venue, make sure you understand all the legal requirements for getting married at your chosen destination.
You may need to provide certain documents, such as birth certificates or proof of residency, so start collecting this information as soon as possible.
Some of the other requirements include understanding the process of obtaining a marriage license, having a ceremony performed by a licensed official, and having your marriage recognized in Canada.
Another thing to keep in mind is that not all countries are LGBTQ+ friendly. Therefore, you might have to make decisions accordingly.
8. Work with a wedding planner
A wedding planner can be invaluable when it comes to planning a destination wedding.
They will help you find the perfect venue, coordinate with local vendors, handle the budget, take care of flight tickets and accommodations, and ensure that everything runs smoothly on your special day.
At CAA Travel, our trusted travel consultants can help you plan your dream destination wedding by eliminating all your stress. We will work closely with you to bring your dream wedding to life.
Plus, you'll also receive exclusive group services that you won't find anywhere else.
9. Be flexible and enjoy yourself
Most couples choose a destination wedding to enjoy a more relaxed and stress-free atmosphere.
Therefore, it's important that you have fun and understand that your wedding is a celebration of your love and commitment. Enjoy every moment, and don't get too caught up in the details. 😉
While it's important to have a plan, it's also important to be flexible. Things may not always go according to plan, so be prepared to adapt and make changes as necessary.
Remember to focus on the big picture, enjoy the journey, surround yourself with loved ones, relax, and let the magic of the destination do the rest. Happy Wedding!