The app you love just got an upgrade! While some apps may be tricky to understand, the new CAA Mobile app is designed to be easy to use and was created with members like you in mind. Take your membership with you wherever you go and try these three ways to use the new CAA app. If you're excited to get started, download it now!

1. Membership Access Anytime
The CAA app offers one convenient place where you can easily update your information, view your CAA Dollar balance, transactions and more. Plus, never worry about forgetting your membership number again by always having quick access to your digital card; which you can even add to Apple Wallet or Google Pay!
2. Easily Request Roadside Assistance
Instead of waiting on hold, request roadside assistance through the upgraded CAA Mobile app. Easily submit your breakdown information, location and desired towing destination, then opt-in for text message updates during your call. You can even know when to expect your technician with the estimated arrival time. After you've placed your service call, you can share your roadside status with loved ones to let them know that you are safe and well taken care of. Requesting roadside assistance has never been easier by downloading the app. Drive with confidence knowing CAA is just a tap away.


3. Receive Instant Savings
With over 100,000+ CAA Rewards Partner locations nationwide there are instant savings and deals at every turn. Always know where you can save by easily searching for nearby Rewards Partners and receive directions to them with location services enabled. Find rewards partners like The Source, Montana's and Loblaw Optical and even personalize your rewards by selecting your favourite brands and offers. With all these savings your CAA membership can pay for itself. Just search and save!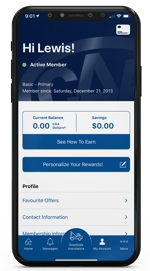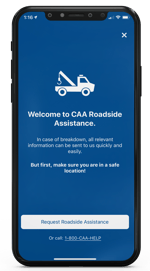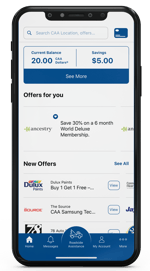 Get Started
Now that you know three great ways to use the newly upgraded CAA Mobile app, test them out for yourself. The value of your CAA membership is always just a tap away. Get started and download the app today to take CAA with you wherever you go.